Remembering William Randolph Hearst, Part 2 of 3
Hearst Castle & Corporation
Media mogul William Randolph Hearst began construction on Hearst Castle near San Simeon, California in 1919. He was 56 years of age and already a millionaire many times over; Hearst Castle was only one of the many mansions he owned in the U.S., Mexico, Wales. In the movie Citizen Kane, "Xanadu" was based on Hearst Castle.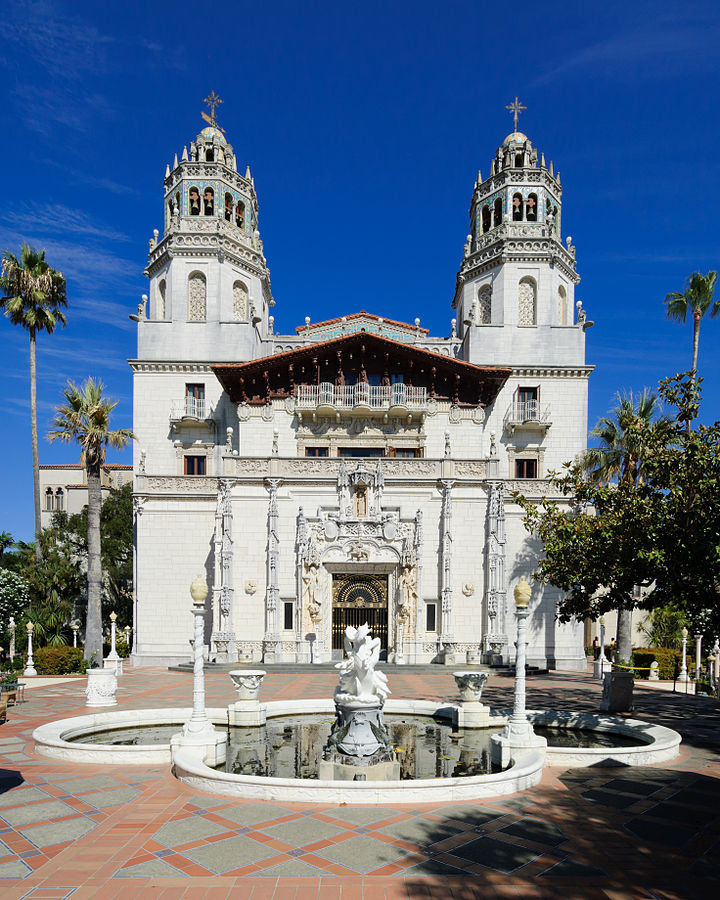 (Casa Grande of Hearst Castle 2012 Photo: King of Hearts)
Reknowned architect Julia Morgan worked closely with William Randolph Hearst over the 28 years the castle was being designed & built. Hearst lived at the castle throughout construction with his girlfriend Marion Davies; they hosted lavish parties at the castle throughout the 1920's and 30's, often attended by political and Hollywood celebrities including Clark Gable, Carole Lombard, Charlie Chaplin, and others.
Below, Clark Gable, Carole Lombarde, director Mervyn LeRoy, and William Randolph Hearst circa the late 1930's/early 1940s.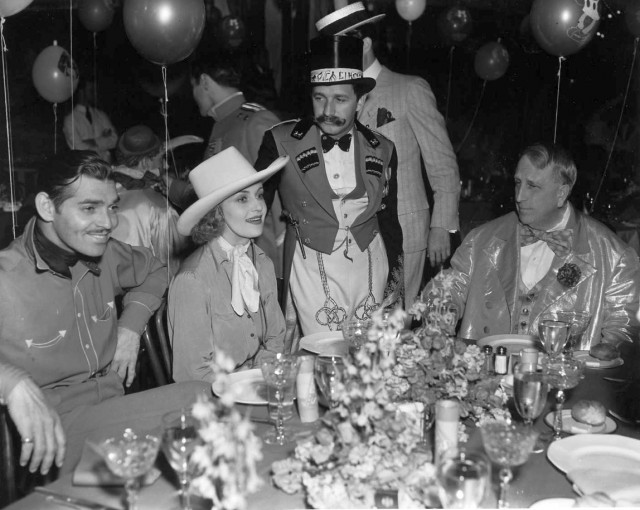 (Photo: Original source unknown [no visible markings] |  Pinterest & The Redlist)
When Winston Churchill visited Hearst Castle in 1929 with his son Randolph, Hearst's estranged wife Millicent visited and acted as hostess for him; Marion was tactfully nowhere in evidence. With 3 separate guest mansions as well as the castle proper, there was plenty of room at the castle for overnight visitors.
William Randolph Hearst spent $37 million on the castle buildings, and another $50 million on acquiring the largest art collection ever owned by one person. He collected so much that even Hearst Castle and his other mansions combined, could not hold it all…several warehouses stored the excess pieces of furniture, artifacts, paintings, tapestries, and more. William Hearst never let his senior years keep him from collecting art, running businesses and making (and spending) money.
There are 2 pools at Hearst Castle…below, the outdoor Neptune Pool many years later, in 2009, taken from above with the countryside beyond in the background.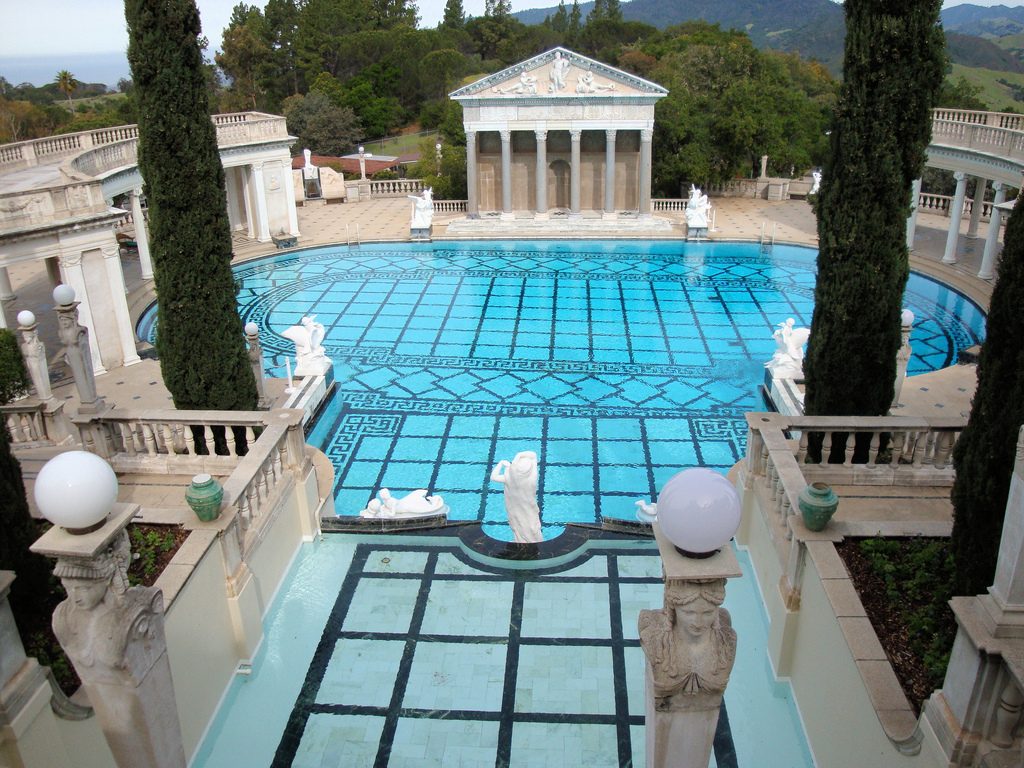 (Hearst Castle Neptune Pool Photo: Jim G)
Initial plans were for an ornamental pool and temple, until Hearst requested Morgan "make the pool longer than it is, as long as a swimming pool. Mrs. Hearst and the children are extremely anxious to have a swimming pool!"
Construction for the first version of the Neptune Pool was completed in 1924. The second version of the pool, a substantial enlargement, was created between 1926-1927. The current version of the pool (built between 1934-1936) is 104 feet long, 58 feet wide and 95 feet wide at the alcove end.  It features colonnades, statues, an oil-burning heating system, Vermont marble, and on the sides of the colonnades, 4 17-century Italian bas-reliefs. Below, another view of the Neptune Pool at Hearst Castle, taken from the pool level with some of the other castle buildings in the background.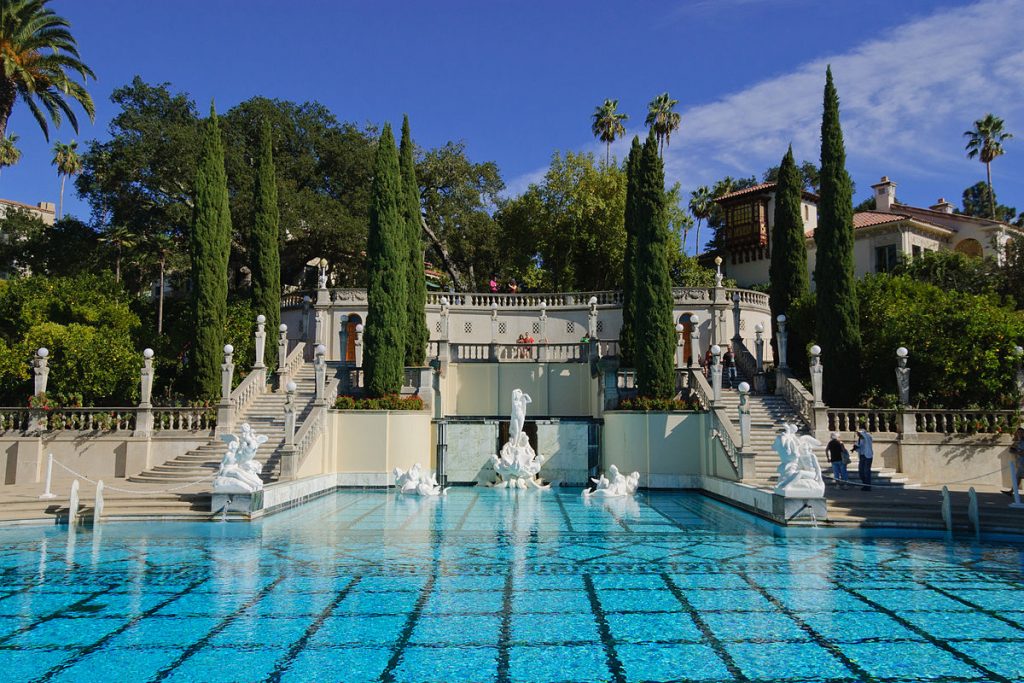 (2012 Hearst Castle Neptune Pool Photo: King of Hearts)
The indoor, tiled Roman Pool at Hearst Castle (below) was part of the Roman Pool Complex, which also included sweat baths, a handball court, exercise and dressing rooms. It was built from 1927-1934 and is decorated with eight marble statues of Roman gods, goddesses and heroes carved in Italy starting in 1930, and shipped to California. The walls of the mausoleum are marble, with vaulted arches of blue and gold mosaic tiles; the roofs and dome are covered in dark blue tiles, and a star pattern inspired by the 5th Century Mausoleum of Galla Placidia.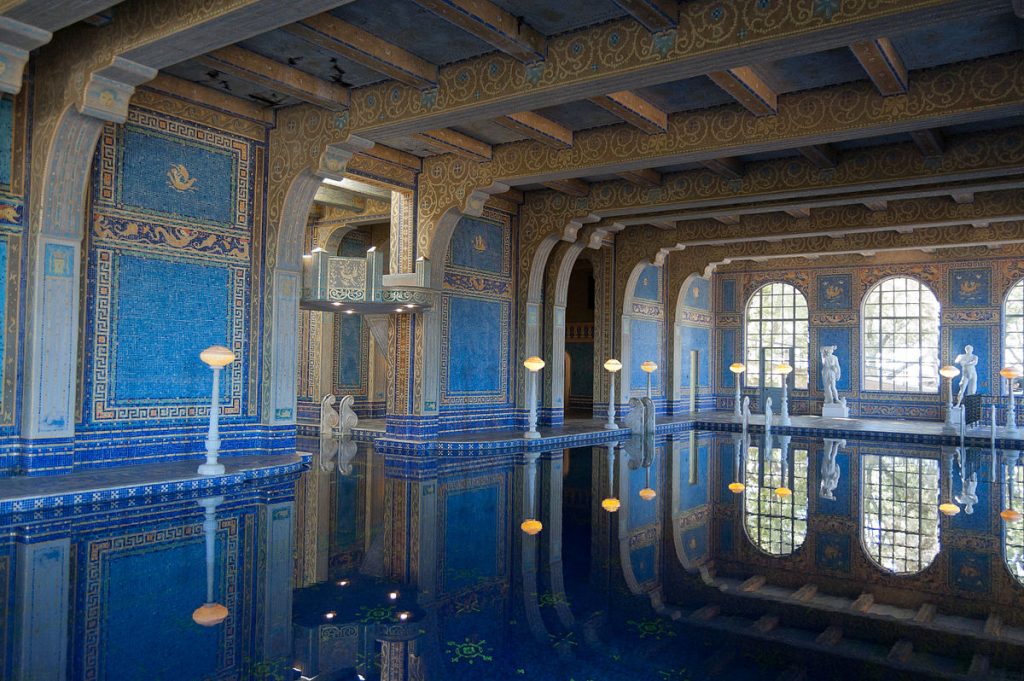 (Hearst Castle Roman Pool 2012 Photo: King of Hearts)
William Randolph Hearst also acquired $50 million in New York City real estate (as well as other properties world wide). However, by the mid-1930's, the Great Depression had hit hard and the Hearst news empire (never his biggest money maker) was on shaky ground. The Hearst Corporation underwent a reorganization ordered by the courts in 1937, and from then on Hearst's power in that organization was minimized. Newspapers, other properties, and companies were liquidated, and Hearst began to sell off much of his art collection – $11 million dollars worth that first year alone. Another 20,000 pieces were put up for sale in 1941 (all this put only a small dent in his art collection and other holdings). Today the Hearst Corporation is still a privately held media conglomerate.
Below, William Randolph Hearst's Long Island, New York home "Beacon Towers", circa 1931.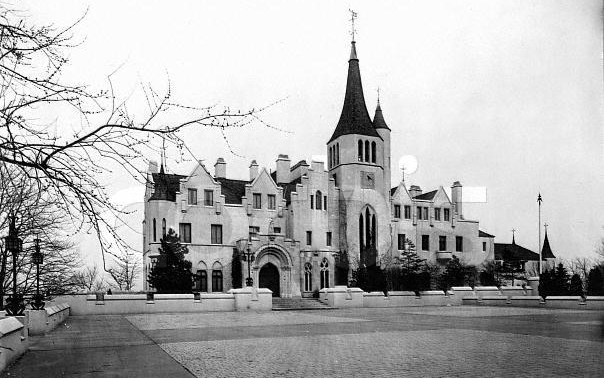 (1931 Photo: Irving Underhill / U.S. Library of Congress)
Meanwhile, construction on Hearst Castle continued on until ill health forced 84-year-old senior citizen William Hearst to move with Marion Davies to a more urban setting in 1947.
In 1957 Hearst Castle was donated to the state of California by the Hearst Corporation – it is now an operating museum with daily tours, a State Historical Monument, and National Historic Landmark. The breathtaking Hearst Castle overlooks the ranch, surrounding countryside, and the Pacific Ocean.
British Pathe's video coverage of the opening of the new state park (below) offers some panoramic views of Hearst Castle and a glimpse of the Hearst family heirs in 1958.
Visit Hearst Castle at 750 Hearst Castle Rd., San Simeon California. 
Next:
Remembering William Randolph Hearst, Part 3 of 3: Marion Davies & The Thomas Ince Affair
Previously:
Remembering William Randolph Hearst, Part 1 of 3: Publishing, Politics & Marriage