Celebrating Seniors - Happy 72nd Joe Pesci
Academy Award winning Best Supporting Actor Joe Pesci (1990's Goodfellas) officially retired from acting at age 56 in 1999, although he has since come out of retirement to appear in a couple of movies (2006 and again in 2010).
Born February 9, 1943 and raised in New Jersey, Joe Pesci's Jersey accent and short-tempered persona are apparent in many of his movie tough-guy roles (Goodfellas, Raging Bull, Casino, Once Upon A Time in America), as well as comedic turns (the Home Alone and Lethal Weapon movie franchises; My Cousin Vinny), and more recently in Snickers commercials. Below, Robert DeNiro and Joe Pesci as Nicky Santoro in a movie clip from Casino.
As a child actor (5-10 years old) Joe Pesci appeared in plays and was a regular on a TV variety show Startime Kids (alongside fellow New Jersey child star Connie Francis). In his later teens Pesci turned to music (guitar and vocals) and stand-up comedy acts with different bands and comedy partners, with limited success.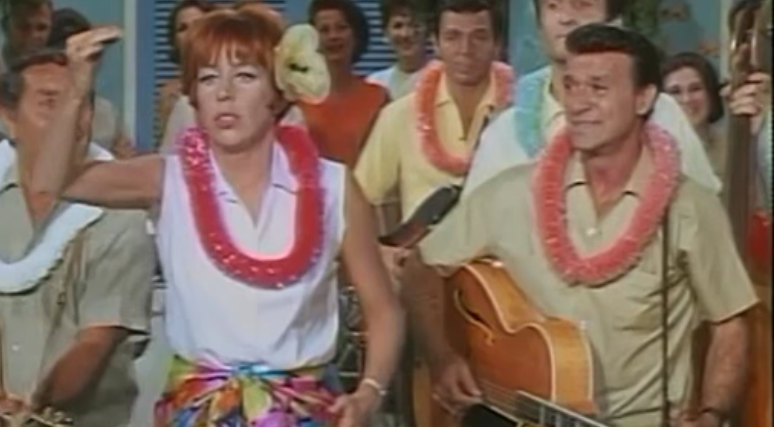 (Carol Burnett & Joe Pesci 1966 The Lucy Show Screenshot)
He had odd bit parts here and there in film, including a couple of spots playing a musician on The Lucy Show in 1966, guest-starring with Carol Burnett. Below, Joe Pesci plays the lead musician in the in funny "Lucy Gets a Roommate"  episode of The Lucy Show.
Finally in 1975 Joe Pesci tried acting again in 1976's The Death Collector, directed by boyhood friend Ralph De Vito. Pesci moved to Hollywood for the role and took acting classes. The Death Collector movie and Joe Pesci's performance achieved some critical acclaim, but no other acting jobs were forthcoming. Pesci moved back east to New York and was working as a restaurant manager when he got a call from Robert De Niro about the role of Joey Lamotta in Raging Bull.
Below, Joe Pesci in a scene-stealing role as David Ferrie in Oliver Stone's JFK, along with JFK star Kevin Costner and Jay O. Sanders. 
As a retired senior, Pesci has been doing a lot of golfing and appearances in charity golf tournaments. There are rumours that he will team up soon for the 4th time with director Martin Scorcese and De Niro, in a film about Jimmy Hoffa's murder.
Happy 72nd Birthday, Joe Pesci!