Celebrating Seniors - Singer Jennifer Warnes, 68
3 videos from singer-songwriter, arranger and record producer Jennifer Warnes, who turns 68 today on March 3rd (b. 1947). 
Her father turned down the first recording contract offered to Warnes when she was just 7 years old. After being a regular on The Smothers Brothers Comedy Hour (1967-1969), she starred in the west coast production of the musical, Hair. Below, Jennifer Warnes performs the song Easy to be Hard from Hair on The Smothers Brothers Comedy Hour.
1971 was an important year; Jennifer Warnes fiancee died, and she met and became close friends with Canadian poet and singer-songwriter Leonard Cohen. They've co-written and performed often together since then; she toured with Cohen in 1972 and 1979, performing as a back-up singer. Jennifer Warnes #1 single below, The Right Time of the Night, was released in 1977.
Jennifer Warnes met boyfriend Roscoe Beck while touring with Cohen in 1979 and at the end of the tour (she was then 32 years old) she moved to Austin, Texas to live with Beck. While in Texas, Warnes met Stevie Ray Vaughan, and many others in the Austin & Texas music scene that influenced her music. Although Roscoe Beck moved with her back to L.A. in 1981, she has lived off and on in Texas since then. Before they broke up personally and creatively in 1994, Beck worked with Jennifer and Cohen on the album Famous Blue Raincoat in 1986, and her 1994 album The Hunter. 
Below, Jennifer Warnes sings First We Take Manhattan, from the Famous Blue Raincoat album - featuring Stevie Ray Vaughan & a cameo by Leonard Cohen. 
Many of Jennnifer Warnes' songs have been written and/or recorded for television shows and feature films:
1979's Norma Rae - recorded the song It Goes like it Goes - the song won the Academy Award for Best Original Song.
1981's Ragtime - recorded the song One More Hour - the song was nominated for an Academy Award for Best Original Song.
1982's An Officer and a Gentleman - with Joe Cocker, recorded Up Where We Belong - the song won the Academy Award for Best Original Song; and Cocker/Warnes won the Grammy Award for Best Pop Performance by a Duo or Group with Vocal.
1987's Dirty Dancing - Recorded and performed (I've Had) The Time of My Life with Bill Medley - the song won the Academy Award for Best Original song; Medley/Warnes won the Grammy Award for Best Pop Performance by a Duo or Group with Vocal.
Growing Pains TV show - with B. J. Thomas, recorded the theme song As Long as We've Got Each Other.
Below, Bill Medley and Jennifer Warnes singing The Time of My Life from the 1987 hit movie Dirty Dancing.
Jennifer Warnes was extremely close to her mother, who often went on the road with Jennifer on her tours. When her mother died in 2003, Jennifer was profoundly affected and did not write or perform for many years. On her website jenniferwarnes.com, she wrote in 2004: 
"I phoned Leonard on the day that my mother died, wanting to talk. "Was that somehow strange, giving one's life to one's mother?" Leonard's response was impeccable: "Jenny, never question where love comes from. We have no control over these things. From a stranger, a mother, a dog, or that perfect mate, it comes from wherever it comes. You were lucky in fact, everyone hopes to find love in the place that you found it."
Update:  Jennifer Warnes' longtime close friend Leonard Cohen died on November 10, 2016 at the age of 82.
Now a senior citizen, in December 10, 2014, Jennifer Warnes posted an update on her website: 
"Roscoe Beck, my partner in the creation of our album Famous Blue Raincoat, has returned home from a three year world tour with Leonard Cohen. I am happy to share the news that Roscoe and I are in the very beginning stages of a new album."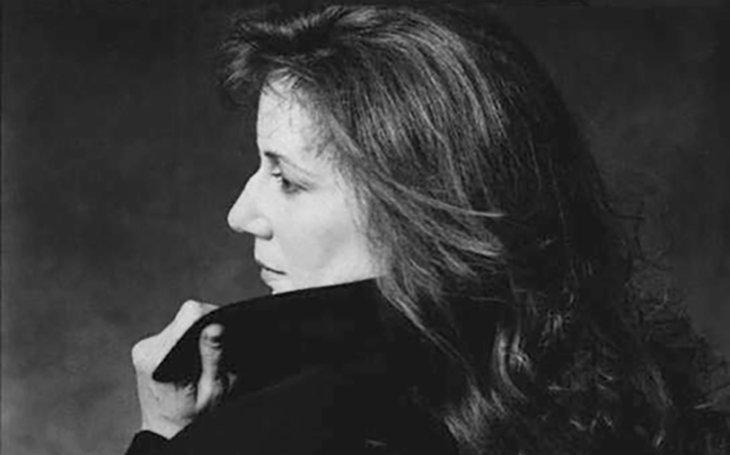 A love song is in the air. Happy 68th Birthday, Jennifer Warnes!
Update March 2017: Jennifer Warnes' new album is set to be released in 2017, according to her website JenniferWarnes.com. 
*Images are public domain or Creative Commons licensed & sourced via Wikimedia Commons, Vimeo, YouTube, or Flickr, unless otherwise noted*