Celebrating Seniors - Jerry Lee Lewis is 80 pt 1of3
5 vintage songs – New Orleans Boogie, Crazy Arms, Just A Little Talk With Jesus, Whole Lotta Shakin' Goin' On – from "The Killer", rock and roll pianist and singer Jerry Lee Lewis. He would become almost as widely known for his riotous personal life (crime, violence, drinking, drugs, and 7 marriages) as his aggressive piano playing and singing.
Jerry Lee Lewis Part One: Louisiana, Bigamy and the Million Dollar Quartet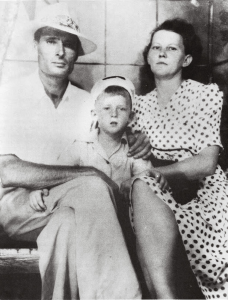 Jerry Lee Lewis was born 80 years ago on September 29, 1935 in Ferriday, Louisiana. The Lewis family lived in poverty and moved frequently; Jerry Lee's mother Mamie picked cotton and his father Elmo was a carpenter, farmer, and illegal whiskey-maker (for which he served jail time); Jerry Lee's older brother Elmo Kidd Jr. was killed by a drunk driver at age 9 in 1938; he has two surviving sisters, Frankie Jean, and Linda Gail, who has opened some of his concerts. Like the rest of his ten brothers and sisters, Elmo was also a singer and musician.
Left, Elmo, Jerry Lee and Mamie Lewis. (Photo: Jerry Lee Lewis)
Elmo's brothers and sisters and their children often married cousins and in-laws. One of Elmo's sisters married into the Gilley family, and another married into the Swaggart family – giving young Jerry Lee two first cousins that would gain their own fame – country singer Mickey Gilley and evangelist Jimmy Swaggart. All the cousins attended fiery Assembly of God revivalist church meetings.
In his 2014 biography Jerry Lee Lewis: His Own Story, written by Rick Bragg, Jerry Lee recalled seeing his first piano up close when he was 4 years old; and after touching the first key, he was able to instinctively pick out the tune to Silent Night, Holy Night:
"And I reached up and, for one reason or 'nother, it just come to me."
His father mortgaged their farm several years later to buy an upright piano for Jerry Lee to hone his skills on, which he did for hours on end.
As a teenager Jerry Lee Lewis and his cousins Mickey Gilley and Jimmy Swaggart would often play piano together. Right, Jimmy Swaggart, Mickey Gilley & Jerry Lee Lewis (Photo: protopage.com)
Hymns and gospel music were the approved songs for Jerry Lee to play and sing, but like many seniors today, back then he also listened to the Grand Ole Opry and was influenced by Jimmie Rodgers "the father of country music", Moon Mullican who played "hillybilly boogie", his piano playing cousin Carl McVoy,  blues music, and Hank Williams. Jerry Lee's first performance singing and playing piano was in his church. According to one story, his nickname "Killer" came about when he got into a fight with his teacher in 7th grade, over being kicked back down to 6th grade which he had failed, due to rarely attending classes or doing homework. 
By age 14 Jerry Lee Lewis had quit school and was playing piano and singing in clubs in nearby Natchez, telling the owners he was 21. In 1951 he met Dorothy Barton, the daughter of a traveling evangelist, in church. The couple began dating and 16-year-old Jerry Lee and 17-year-old Dorothy, virgins both, were married in February 1952; Jerry Lee lied and indicated he was a 20 year old farmer on the marriage license. The marriage was over within a few months; Jerry Lee would take off to play in honky-tonk clubs, with ready access to other women. Dorothy moved home to her parents and Jerry Lee went to New Orleans, but divorce papers were never filed as Jerry Lee was not a big believer in either the law or paperwork.
Below, an audio recording of Jerry Lee Lewis playing New Orleans Boogie in 1952
At his mother's behest, Jerry Lee Lewis enrolled at the Southwest Bible Institute in Waxahachie, Texas to "use his God-given talents as a singer and piano player to bring people to the Lord", but was quickly booted out after his enthusiastic performance at an assembly. Jerry Lee returned to playing in clubs and honky-tonks. Never the most law-abiding of children or teenagers – joyriding in cars, in 1953 he turned to "selling" sewing machines in a scam, and then on an impulse stole a pistol, for which he was sentenced to 3 years probation.
That same year Jerry Lee Lewis began dating 17-year-old Jane Mitcham. When Jane got pregnant and Jerry Lee told her he couldn't marry her because he was already married, Jane's family showed up with horsewhips and guns and they got married anyway (September 1953). Now a bigamist for the first time, Jerry Lee's divorce from Dorothy Barton came through a couple of weeks later. The couple fought verbally and physically; Jane believed she was married and Jerry Lee didn't think he was, legally. Jane and Jerry Lee's son Jerry Lee Lewis Jr. was born November 1953 and Ronnie Guy Lewis as born in 1956. In his biography Jerry Lee said he didn't think Ronnie was his son. The couple divorced in October 1957.
Below, from left, Jerry Lee Lewis with his first wife Dorothy Barton; second wife Jane Mitcham with their two sons.
(Photo Sources: Pinterest | Photo Montage: Senior City)
Jerry Lee Lewis tried out for the Louisiana Hayride, cut a demo record in 1954 and tried unsuccessfully to get onto the Grand Ole Opry in Nashville in 1955, but it didn't pan out. Meanwhile he continued to play and sing at clubs and honky-tonks.
He made the trip to Memphis, Tennessee in 1956 to audition for Sun Records founder and music producer Jack Clement (Sam Phillips was on vacation); Lewis wanted to see if Sun Records and Sam Phillips could do for him what he had done for Elvis Presley with the young baby boomers. Jerry Lee Lewis recorded Crazy Arms. This scene below from the slightly fictionalized 1989 Great Balls of Fire movie (based on Myra Gail Brown's autobiography by the same name) stars Dennis Quaid as Jerry Lee Lewis and Trey Wilson as Sam Phillips, and depicts a very similar recounting of events that Jerry Lee tells in his biography. In the background, the real Jerry Lee Lewis can be heard singing his re-recorded version of Crazy Arms.
Back home in Ferriday after the audition, Lewis met his cousin J. W. Brown for the first time. J. W. was Jerry Lee's father Elmo's sister Jane's son; the cousins had never met before because J. W. hadn't grown up in Ferriday. J. W. was a young father of two, and wanted to become a musician himself (he would play bass guitar in Jerry Lee's band). Jerry Lee was waiting to hear from Sam Phillips and at a loose end, so when J. W. invited Jerry Lee to move in with him at their home closer to Memphis, he did. Jerry Lee met J. W.'s son Rusty and his 12-year-old daughter Myra Gail Brown. 
Jerry Lee Lewis was soon hired as a Sun Records session musician and began recording with other artists, including the famous December 4 1956 jam session with Elvis Presley, Johnny Cash, and Carl Perkins, now known as the Million Dollar Quartet. Elvis and Jerry Lee were both from the Assembly of God church and sang gospel songs they both knew. Below, Elvis and Jerry Lee can be heard singing Just A Little Talk With Jesus during the session.
Jerry Lee Lewis continued as a session musician and also recorded solo singles – rock and roll and country music – throughout 1957. His live performances were known for his physical, aggressive keyboard playing – standing up, kicking the piano bench, playing with his heel. Although most of his music was rock and roll, there were some hard country and gospel tunes as well.
Right, Jerry Lee Lewis circa 1950's. (Photo: Public Domain |Wikimedia Commons | Maurice Seymour)
Jerry Lee Lewis, Carl Perkins, and Johnny Cash went on a months-long northern tour that included Canada; by the time the tour ended, Whole Lotta Shakin' Goin' On was getting national airplay, on it's way to becoming a hit courtesy of young baby boomer teenagers.  When the radio stations put a ban on playing Whole Lotta Shakin' Goin' On, Jerry Lee traveled to New York City and collared a spot on the Steve Allen Show.
Below, Jerry Lee Lewis sings Whole Lotta Shakin' Goin' On live:
Next: 
Jerry Lee Lewis Part Two – Great Balls of Fire and Going Country
Jerry Lee Lewis Part Three – Peace for the Last Man Standing