Celebrating Seniors - Eric Clapton - Part 2 of 2
Final chapter of our story about baby boomer guitar god and now senior citizen, Eric Clapton. Featuring 2 vintage Eric Clapton live videos - Cocaine, and Tears in Heaven. 
End of the Obsession and Getting Clean
By 1978 Clapton was a raging alcoholic and cocaine addict; in his 2007 autobiography Clapton, he estimated that he spent $16,000 a week on cocaine. It's been reported that Pattie helped Eric Clapton overcome his cocaine addiction, although he was still an alcoholic when they finally married in 1979.
Patti's ex-husband George Harrison was the best man at their wedding, and he and Eric remained fast friends until Harrison's death in 2001. Unfortunately a 1982 stint in rehab for Eric wasn't successful, and Pattie & Eric's attempts to have children all ended in miscarriages.
Below, in 2015 an older Eric Clapton performed his signature song Cocaine (1977), written by J.J. Cale, at the Royal Albert Hall in London, England,, 
When Eric Clapton went on a 1984 European tour with Roger Waters, in addition to having numerous sexual liasions, he had an affair with Yvonne Kelly, a Montserrat recording studio manager (she gave birth to his daughter Ruth Kelly Clapton in 1985). He returned from this tour in late 1984 to find that Pattie had also had an affair, which led to a trial separation for the couple.
By mid-1985 Eric Clapton had persuaded Pattie to reconcile with him before he went on yet another European tour. In October 1985, after being home for two days from the tour, he told Pattie their marriage was over. While in Europe he'd met Italian model Lory Del Santo (who had his son Conor in 1986). Eric and Pattie's divorce was finalized in 1988, the same year he released his Crossroads album.
In a 2008 Esquire interview, Eric Clapton stated:
"I have regrets, obviously. Countless. One of the great regrets was getting involved with George Harrison's marriage. What is that fabulous song that Dylan plays? "Don't go mistaking paradise for that home across the road."
When asked later if Pattie Boyd was the love of his life, Clapton said in interviews that he wasn't sure if he even knew what love was, or was capable of love back then, because he was an alcoholic and addicted; instead he characterized it as being obsessed with her.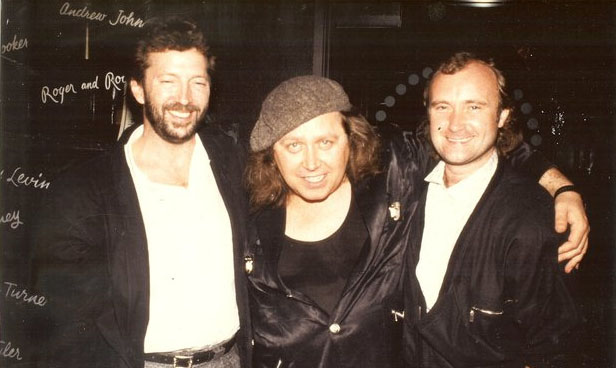 (1980s Eric Clapton with pals Sam Kinison, and Phil Collins Photo: The World Famous Comedy Store )
In 1987 Eric Clapton entered the Hazelden Treatment Center for a second, successful attempt to kick his alcohol addiction. Throughout the '80's Eric Clapton continued to record albums and tour.
The early 90's didn't start off well for Clapton; while on tour in August 1990 his friend, guitarist Stevie Ray Vaughan, and 3 members of the crew were killed in a helicopter crash. And on March 1991 his four-year-old son Conor, died as the result of a fall from a 53rd story apartment building window in New York City.
While Clapton picked up the pieces of his life and tried to move on, he wrote the introspective ballads My Father's Eyes (about his father, and his son) and 1991's Tears in Heaven (about Conor). He later said in an interview:
"I almost subconsciously used music for myself as a healing agent, and lo and behold, it worked... I have got a great deal of happiness and a great deal of healing from music."
Below, Eric Clapton's music video for Tears in Heaven.
During this time he also connected with and built a relationship with his daughter Ruth Clapton, to the point that her mother Yvonne moved back to England with their daughter so he could spend time with her.
While continuing to record albums and tour, between 1993-1999 Eric Clapton served on the boards of a two British treatment centres for drug and alcohol dependence. In 1998 Clapton was inspired to establish a new drug and alcohol centre in Antigua, called The Crossroads Centre. The charity is still active today, with Clapton running regular festivals to raise funds in support of it.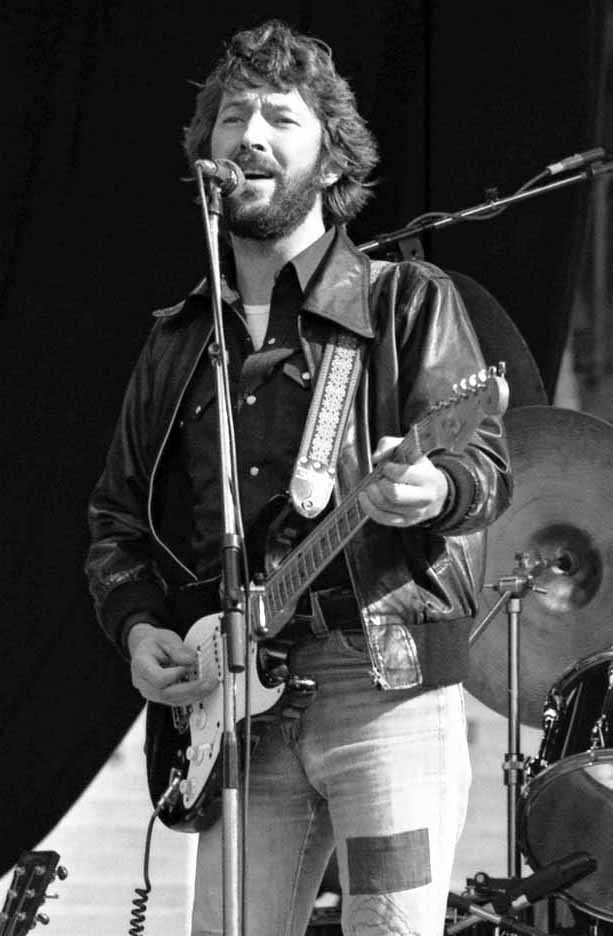 (Eric Clapton 1978 Photo: Chris Haakens)
 It wasn't until 1998 when he was 53, that Eric Clapton met the woman who would become his second wife, 23 year old American Melia McEnery. They are still happily married today, after marrying in England in 2001, in a ceremony where they also christened their first daughter (Julie b. 2001) as well as Ruth, his 16-year old daughter with Yvonne. His two youngest daughters with Melia came along in 2003 (Ella) and 2005 (Sophie).
Now a senior citizen and grandparent (grandson Isaac Bartlett was born in 2013 to his first daughter Ruth and her husband), in recent interviews Clapton stated that he has anxiety about travelling, and the day when he can no longer play the guitar may not be far off:
"Physically, it might be that I can't, if it hurts too much. I have odd ailments.' 
Despite this, he's still touring and recording, appearing in New York City in May 2015. He has won over total of 16 Grammy Awards during his career.
Happy 70th Birthday, Eric Clapton!
*Images are public domain or Creative Commons licensed & sourced via Wikimedia Commons, Vimeo, or Flickr, unless otherwise noted*