Celebrating Seniors - ABBA's Agnetha Fältskog Turns 65
Updated April 21 2017: Rumoured ABBA reunion in 2017
Agnetha Fältskog was born in Jonkoping, Sweden on April 5, 1950. From an early age Fältskog showed musical promise, writing her first song at age six. She soon learned piano and sang with friends, eventually leaving high school at age fifteen to pursue music full-time. 
(Agnetha Fältskog 2013 Photo: Stockholm Pride / mynewsdesk.com | Wikimedia Commons / CC 3.0)
Agnetha managed to obtain success within Sweden as a solo artist, releasing the song I Was So in Love and selling more than 60,000 copies. Fältskog reached international stardom when she joined 1970's pop supergroup ABBA, which sold over 370 million albums and singles worldwide.
ABBA consisted of two couples, Björn Ulvaeus & Agnetha Fältskog; and Anni-Frid Lyngstad and Benny Andersson. Agnetha Fältskog and Anni-Frid Lyngstad were the headlining singers for ABBA. Below, ABBA in Dutch TV show AVRO's Top Pop, 1974, from left: – Benny Andersson, Anni-Frid Lyngstad, Agnetha Fältskog and Björn Ulvaeus.
(Photo: AVRO TopPop/ Beeld En Geluid Wiki / Wikimedia Commons / CC 3.0) 
ABBA – an acronym for the first letters of each band member's names – was one of the most commercially successful acts in the history of popular music. Their songs like Dancing Queen brought them international success. Below, ABBA performs Dancing Queen.

Fernando (1976) could be heard not only in Sweden, but across the world. ABBA was popular with baby boomers in the U.S., Canada, Australia, Ireland and of course their native Sweden. Below, ABBA sings their hit single Fernando.
Agnetha Fältskog and Bjorn Ulvaeus had daughter Elin in 1973 and son Peter in 1977. At the height of their success, both ABBA couples experienced turmoil in their personal relationships and were divorced (in 1979 & 1981 respectively). Below, looking friendly (but split up) in Rotterdam (Netherlands) in 1979, ABBA members from left: Björn Ulvaeus, Anni-Frid Lyngstad, Agnetha Fältskog and Benny Andersson.
(Photo: Fernando Pereira / Anefo | Dutch National Archives, The Hague | Wikimedia Commons / 3.0)
Post divorces, both Björn Ulvaeus and Benny Andersson quickly remarried and had children with their new wives. Although the break-up of ABBA the band was never officially announced, ABBA has not performed or recorded together as a group since 1982.
Most of the ABBA members went on to pursue solo careers. Agnetha Fältskog had some hit albums in the 80's, but effectively retired in 1988 to spend time with her young children; during her years with ABBA she had developed a fear of flying and had never enjoyed traveling after a bus accident in 1983. 
Agnetha Fältskog was married to Tomas Sonnenfeld, a Swedish surgeon, from 1990-1993. At the end of the 90's she was stalked on her Swedish farm by a Dutch man, Gert van der Graaf with whom she'd recently ended a relationship with. A restraining order resulted in van der Graaf's deportation.
Agnetha Fältskog's comeback album My Colouring Book was released in 2004 and hit #1 in Sweden immediately. She has continued to record music and release songs since then.
During the 90's ABBA's music experienced a revival after being featured in the hit films Priscilla, Queen of the Desert and Muriel's Wedding. Other artists began covering their songs, and in 1999, ABBA's music was adapted into a successful musical called Mamma Mia! (named after their 1976 hit song) that toured worldwide. Below, the members of ABBA re-united for a picture with the cast of the movie Mamma Mia in 2008. Below from left: Benny Andersson, Pierce Brosnan, Amanda Seyfried, Meryl Streep, Agnetha Fältskog, Anni-Frid Lyngstad, Christine Baranski, Colin Firth, Phyllida Lloyd, Catherine Johnson (red hair), Judy Cramer, Björn Ulvaeus, and Dominic Cooper.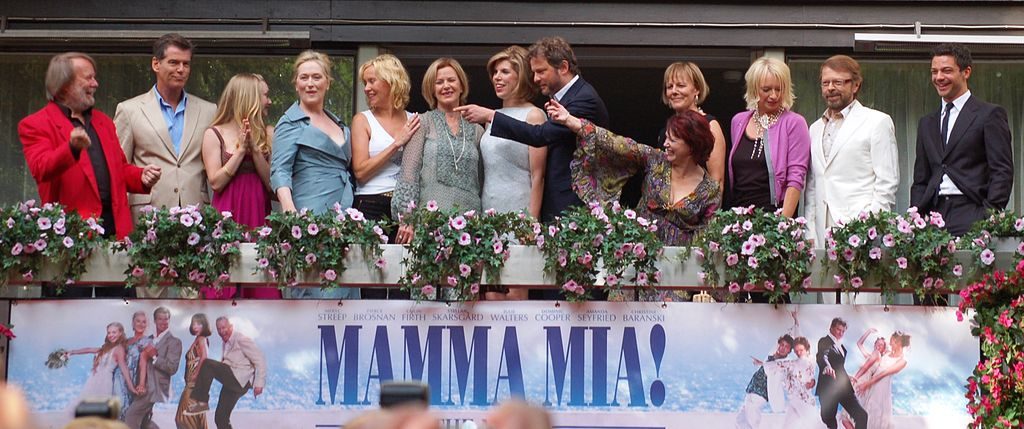 (Abba/Mamma Mia Cast 2008 Photo: Daniel Åhs Karlsson | Wikimedia Commons / CC 3.0)
In 2008 a film was made of Mamma Mia!, and ABBA's songs were rendered by the likes of Meryl Streep and Pierce Brosnan. Mamma Mia! was the highest grossing film in the UK that year. Below, the original ABBA sings their hit single Mamma Mia!
On March 15, 2010, ABBA was inducted into the Rock and Roll Hall of Fame, thereby immortalizing their songs and the influence they had on generations of music fans.
Happy Birthday to Agnetha Fältskog, the youngest member of ABBA and now an official senior citizen at age 65 on April 5 2015.
Online UK magazine Metro reported in October 2016, that ABBA will reunite in 2017 for a project with music impresario Simon Fuller.