Farewell, Harper Lee
Acclaimed 89-year-old Southern novelist and octogenarian senior citizen Nelle Harper Lee has died in her sleep today February 19, 2016 at her home in Monroeville, Alabama. Harper Lee's seminal novel To Kill A Mockingbird was first published in July 1960 and won the Pulitzer Prize for Fiction in 1961. To Kill A Mockingbird has sold more than 40 million copies world wide.
Below, Harper Lee and then-President George W. Bush, on the occasion of her being presented with the Presidential Medal of Freedom.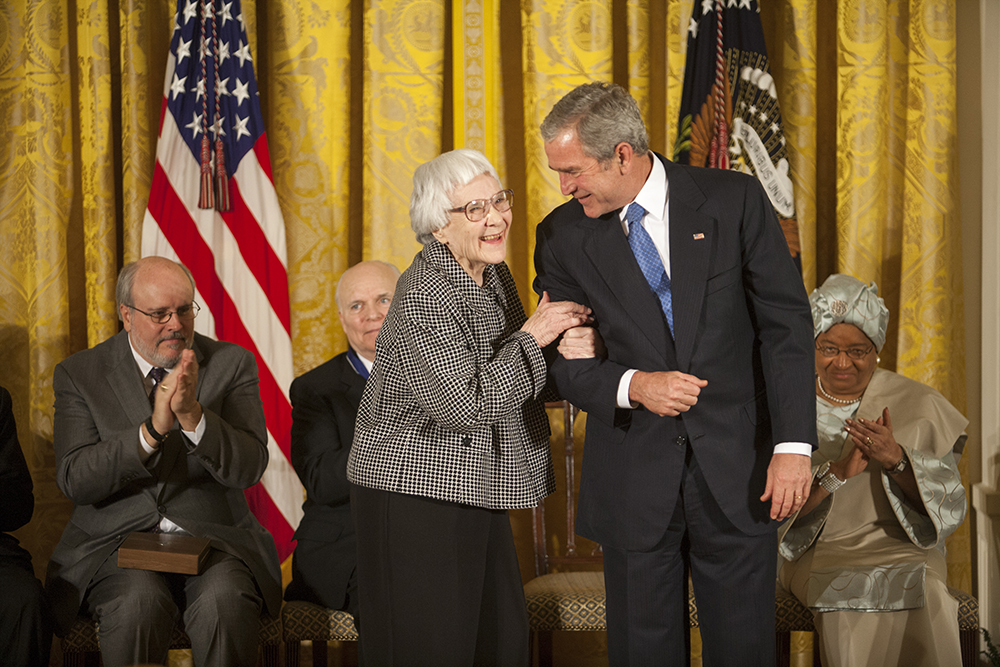 (Harper Lee & President George W. Bush 2007 Photo: Eric Draper / White House)
To Kill a Mockingbird was adapted for the 1962 movie by screenwriter Horton Foote; according to author Harper Lee, she felt it was one of the best adaptations ever made. Lee spent three weeks watching the filming of To Kill a Mockingbird, and became friends with star Gregory Peck. Gregory Peck's grandson Harper Peck Voll is named after Harper Lee. The book and movie are modern classics beloved by seniors, baby boomers, and new generations. In addition to Gregory Peck as lawyer Atticus Finch, To Kill a Mockingbird starred Frank Overton as Sheriff Heck Tate, Brock Peters as Tom Robinson, Alice Ghostley as Aunt Stephanie Crawford, Robert Duvall as Boo Radley, William Windom as prosecuting lawyer Gilmer, child actors Mary Badham as Scout and Phillip Alford as Jem.
Below, the original movie trailer for To Kill a Mockingbird (1962)
In 2015, 55 years after To Kill a Mockingbird was published, Harper Lee's sequel Go Set A Watchman was released, to mixed reviews; it has been confirmed that Go Set A Watchman was actually the working title and first draft of To Kill A Mockingbird, although this version as published is set 20 years after Mockingbird.
Harper Lee was the daughter of lawyer and newspaperman Amasa Coleman Lee and mother Francis Cunningham (Finch), much like the tomboy character of Scout in To Kill A Mockingbird, whose father is the central character Atticus Finch (as portrayed by Gregory Peck in the movie). Like Atticus who defended a black man accused of rape, lawyer A. C. Lee once (unsuccessfully) defended a black father and son accused of murdering a white storekeeper; the men were hanged. Lee's childhood friend and neighbour, novelist Truman Capote, served as the model for Scout's friend Dill in the book.
After graduating high school in 1944 Harper Lee attended college and then university, where she studied law and wrote for the school newspaper, but she never finished her degree. She moved to New York City in 1949 and began working, writing in her spare time. In 1956, 30-year-old Harper Lee got an agent, and for Christmas, her friends gave her the gift of a year's wages and the direction to take a year off and "write whatever you please".
The first draft of To Kill A Mockingbird, titled Go Set A Watchman, landed at publishing house J.B. Lippincott Company the next year, and the rest is history. 
Farewell, Harper Lee.
*Images are public domain or Creative Commons licensed & sourced via Wikimedia Commons, Vimeo, or Flickr, unless otherwise noted*