Celebrating Seniors - Rockin' Bob Seger Turns 70
Celebrating American rock and roll singer Bob Seger's 70th birthday today on May 6, 2015 (he was born May 6, 1945),  with a look back at 5 classic songs that baby boomers will remember from his 1977/78 albums, Night Moves, and Stranger in Town: Night Moves, Mainstreet, Still the Same, Old Time Rock and Roll, and We've Got Tonight.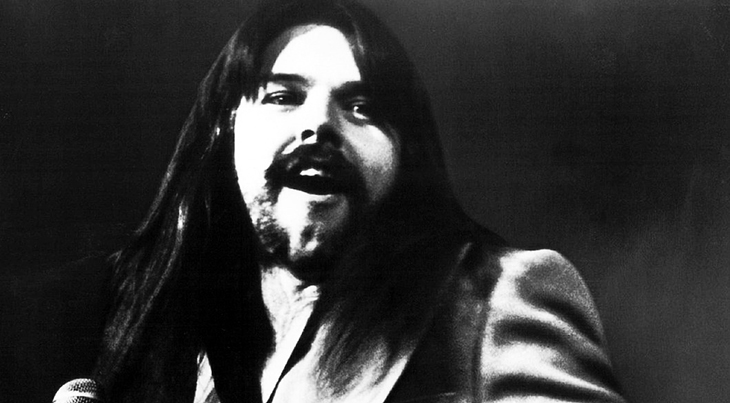 (Bob Seger c 1977 Photo: American Talent International)
bob seger 1977, 1970s rock bands, american rock singer, songwriter, silver bullet band lead singer, american musicians, rock and roll singers, baby boomer fans, rock albums, 1970s hit songs, night moves, stranger in town, 1970s hit singles, best rock songs, mainstreet, old time rock and roll, still the same, we've got tonight, bob seger birthday, born may 6 1946, bob seger  younger
Before he achieved his first successes in the late 70's, Bob Seger performed in obscurity on the Detroit music scene throughout the 1960s and early 1970s. He made a lifelong friend in a fellow local Detroit musician called Glenn Frey (later with the Eagles), and fronted several bands, beginning with the Decibels (1961); followed by The Town Criers.
For a while Bob Seger was an additional vocalist for Doug Brown & The Omens. While performing with Doug Brown & The Omens, he began writing songs and producing for other bands. Seger left the band to go solo and record East Side Story, a song he'd written himself, in 1966 – it became a small local hit in Detroit.  
It seemed like things were looking up in 1968 when Bob Seger and his then-band the Last Heard signed a contract with Capitol Records, who promptly changed the band name to The Bob Seger System. They made it onto the Billboard Hot 100 charts with the second single, Ramblin' Gamblin' Man (1969), and his friend Glenn Frey played guitar and sang backup on the song.
A long period of chart drought followed and Seger went solo for a while; he worked with the famous Muscle Shoals session musicians to record some songs, but stopped when couldn't afford their fees. Finally in 1974 things began to turn around for Bob Seger with the formation of the Silver Bullet Band. The first couple of albums and singles from the new group began to see some chart success beginning in 1975 with the album Beautiful Loser and the single Katmandu, a #43 chart hit.
Below, clockwise from top left, Drew Abbott, Alto Reed, Chris Campbell, Charlie Allen Martin, Bob Seger, and Robyn Robbins – Bob Seger and the Silver Bullet Band circa 1977.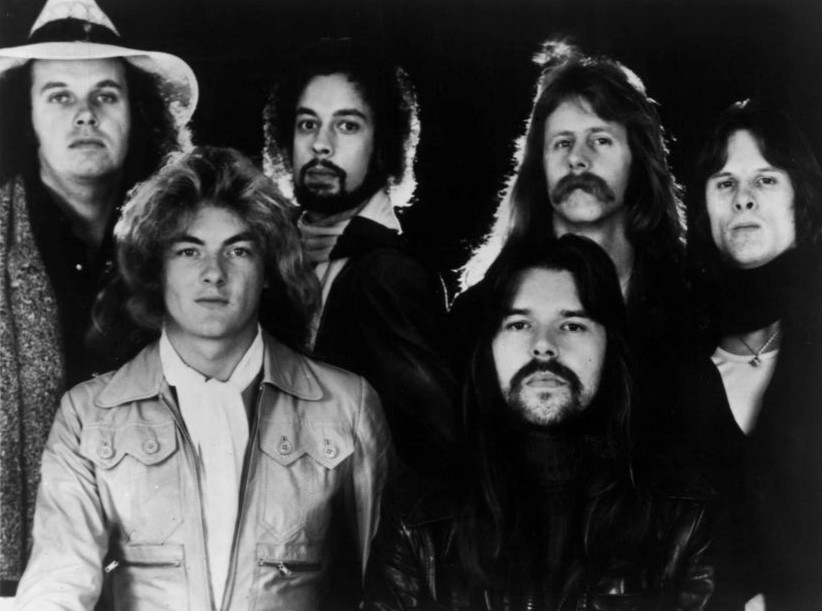 (1977 Photo: American Talent International)
The Night Moves (1976) album was a Billboard Top Ten album for Bob Seger. In addition to The Silver Bullet Band, the Muscle Shoals Rhythm Section also provided backing musicianship on several song. The album title track single Night Moves was the only song on the album to be recorded in Toronto, Ontario. Below, Bob Seger sings his 1976 #4 hit single, Night Moves in concert.
A second hit single from the Night Moves album was the haunting ballad Mainstreet, with backing from the Muscle Shoals Rhythm Section. Although Mainstreet only made it to #24 in the US, it was a #1 hit for Bob Seger in Canada in 1977, where he had (has) a wide fan base. Below, Bob Seger singing Mainstreet, set to a video montage with live clips from 1980.
Still the Same (1978), from 1978's Stranger in Town album, was a #4 hit in both Canada and the United States for Bob Seger. Below, Bob Seger at the height of his success, singing Still the Same live in concert in 1978.
Although the single Old Time Rock and Roll (1979) failed to crack the Top 20 in either Canada or the US, it remains a classic Bob Seger song that no concert would be complete without. Old Time Rock and Roll was later popularized again when the movie Risky Business (1983) starring Tom Cruise, featured the actor dancing in his underwear to it.
Below, a younger Bob Seger performs Old Time Rock and Roll live in 1983.
The single We've Got Tonight (1978) was on the Stranger in Town album, while a live version appears on the Nine Tonight (1982) concert album. We've Got Tonight made it to #13 in the U.S. and #9 in Canada in 1978. Below, Bob Seger sings We've Got Tonight live in 1980.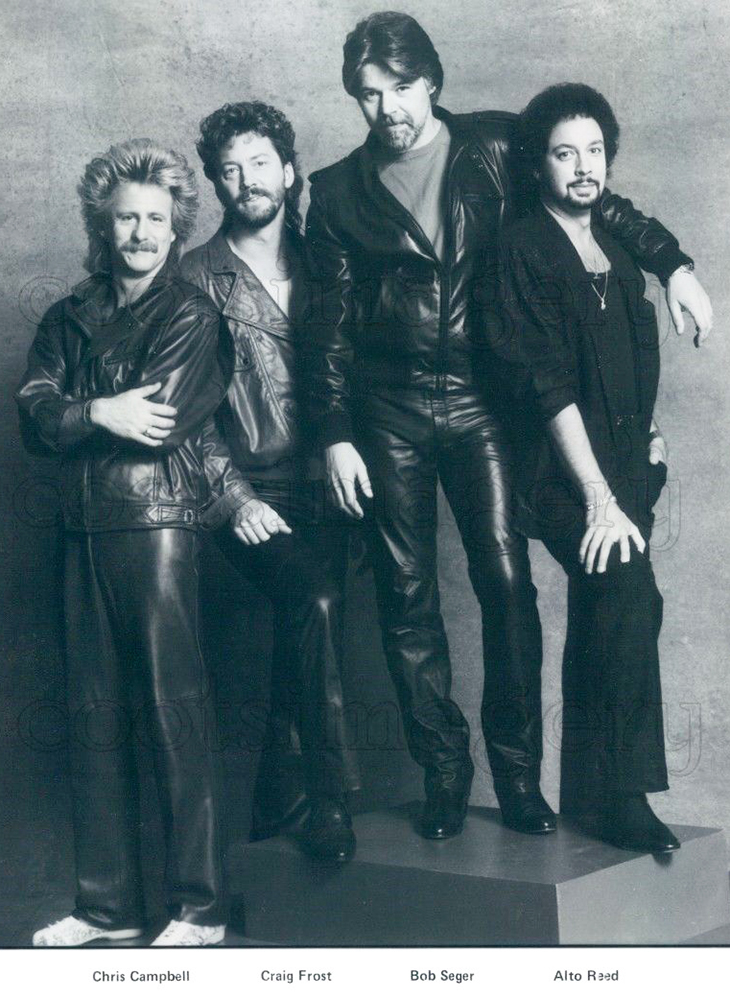 (Bob Seger & The Silver Bullet Band 1986 Photo: Aaron Rapoport / Capitol Records)
The Silver Bullet Band shrank during the 1980s, as did Bob Seger's long locks. He continued recording albums and touring throughout the 1980s , 1990s, 2000s, and 2010s…because "rock and roll never forgets".
Bob Seger was rightfully inducted into the Rock & Roll Hall of Fame in 2004. Now in 2015, 5 years into being an official senior citizen, Bob Seger isn't slowing down or showing signs of wanting to retire. His most recent album, Ride Out, was released last fall and the tour supporting it ended in March this year (2015).
Check for upcoming news at his website, www.bobseger.com.
A look back at a younger Bob Seger & The Silver Bullet Band circa 1982, below.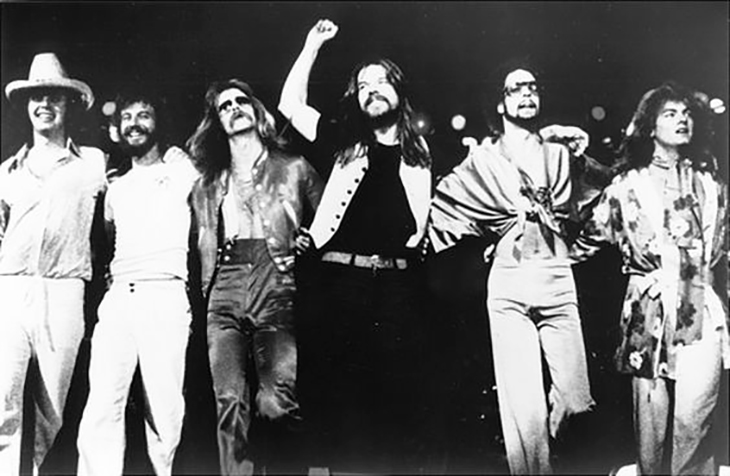 (From left, Drew Abbott, David Teegarden, Chris Campbell, Bob Seger, Alto Reed, Robyn Robbins 1982 Photo: Capitol Records)
Updated May 4 2017: New/additional content.
Happy 70th birthday, Bob Seger – thanks for the music!  
 *Images are public domain or Creative Commons licensed & sourced via Wikimedia Commons or Flickr, unless otherwise noted*