Technology for Seniors: Best 10 Websites Like YouTube
Best 10 Websites Like YouTube article source: Best 10 Websites Like YouTube by TechBoomers.com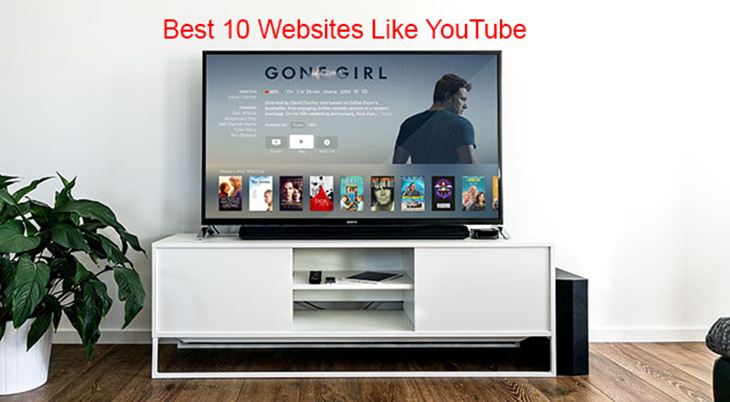 (Photo: Jens Kreuter)
YouTube.com leapt to the forefront of the online video revolution shortly after its creation in 2005, and is still one of the prime websites for easy and free access to both professional and amateur video content.  Whether you're into sports, politics, gaming, film, comedy, business, or lifestyles, there's usually something interesting to watch on YouTube.  You can create "playlists" of clips that you like, or even start your own "channel" and post your own videos for the world to see.  Plus, there are new accessibility options being added all the time, such as closed captions, video annotations, social media sharing options, and a commenting system.
With that said, YouTube isn't the be-all and end-all of free online videos.  If you're looking for full movies or TV show episodes, you'll be hard-pressed to find them on YouTube, as it is rather strict when it comes to taking down videos because of copyright complaints.  And even if you do find some, you'll likely have to pay for them, and/or sit through a bunch of pop-up advertisements or commercials while you watch them.  Not to mention that the discussion and comments surrounding them will usually not be civil.  And you can't save any videos from YouTube to your computer and watch them later (at least not legally), unless you put them there yourself.
If you're looking for free YouTube alternatives that have fewer copyright concerns, check out Dailymotion.com or Vimeo.com.  Or, if you want sites like YouTube that do have mainstream movies or TV shows, try Netflix.com or Hulu.com.  For content that you can download and watch later, see iTunes or Amazon Instant Video.
Here are TechBoomers top 10 free and paid alternatives to YouTube for getting your online video fix.
1. Dailymotion
Headquartered in France, Dailymotion is one of the biggest YouTube competitors out there.  It's available in 18 languages and has 35 country-specific variants.  It offers similar features to YouTube, such as a mostly-free platform supported by advertising, "channels" for different types of videos, the ability to share or embed videos, and the requirement of an account to upload and comment on videos (but not to watch them).  One major difference is that Dailymotion has different upload limits than YouTube, allowing videos to be up to 60 minutes in length (as opposed to YouTube's 15 minutes) but only 4 gigabytes in memory size (as opposed to YouTube's 20 gigabytes).
2. Vimeo
Vimeo is a YouTube alternative named after a combination of the words "video" and "me"; incidentally, it's also an anagram of the word "movie".  It was made for independent filmmakers and their short pieces, which make up the majority of Vimeo's users and content (respectively).  However, it also includes some professional content, such as pranks from the "Improv Everywhere" group and official White House broadcasts from the American government.  Two downsides to Vimeo are that it doesn't allow many video-game-related videos, and removing upload limits requires purchasing a premium account at $60 per year.
3. Metacafe
Metacafe was actually one of the first video-sharing websites on the Internet -- even before YouTube came along -- and it's still in operation today.  It was originally more like Dailymotion and YouTube, with a mix of original and corporate-sponsored material.  However, it has recently switched to a more independent, short-form video format like Vimeo.
4. Maker.tv
This website like YouTube was previously known as "Blip.tv", but it recently rebranded itself.  Owned by Maker Studios (its namesake), a subsidiary of the Walt Disney Corporation, Maker.tv is noteworthy for sharing its advertising revenue with almost everyone who uploads videos onto the websites (as opposed to video posters on YouTube, who have to apply to share revenue).  With that said, Maker.tv is less interested in people uploading random videos than it is in scheduled, well-produced series.  So while it might be tough to upload videos to Maker.tv, at least most of the videos that you can watch are high quality productions (and they're free!).
5. Hulu
As an alternative to YouTube, Hulu is sort of a combination between Netflix and Maker.tv.  It's a paid-for service that offers exclusive content, but it focuses more on television programs and series videos instead of stand-alone movies (like Maker.tv).  It also tends to get its content faster than other services of its kind.  You can use Hulu for free, which gets you access to a limited number of movies, television shows, and previews.  Or you can pay $8 a month and get access to Hulu's full catalogue.  Note that Hulu is supported by advertising (unless you have a more expensive premium paid account), and is only available in the United States.
If you'd like to know more about Hulu and how to use it, check out the TechBoomers Hulu course.
6. Amazon Instant Video
(www.amazon.com/Instant-Video)
Amazon Instant Video is a bit different from the other services like YouTube that we've listed so far.  As opposed to being an all-you-can-watch deal, if you wish to watch videos and television shows on Amazon Instant Video, you must pay to rent or purchase them.  The upside is that you can download digital copies of the videos that you purchase onto your computer, which many of its competitors do not allow.  Subscribing to Amazon Prime (Amazon's premium membership) for $8.25 a month can lower or eliminate the cost of using Amazon Instant Video, and gets you access to additional content.
In fact, TechBoomers has a course on Amazon Prime that will show you how Amazon Instant Video works, if you're interested.
7. Vudu
This YouTube alternative is owned by Wal-Mart, and works similarly to Amazon Instant Video: you only pay for the movies and TV shows that you actually buy or rent.  It also has a neat feature where you can input information about a DVD or Blu-Ray Disc that you buy from Wal-Mart or other associated retailers, and it will unlock a digital copy of that movie or TV show on Vudu.  Then you can share your digital movies and shows with your friends who use Vudu!  The downside to Vudu is that it's only available in the U.S., and its content library is somewhat small.
8. M-Go
M-Go is one of the newest websites similar to YouTube.  It follows the model used by Amazon Instant Video and Vudu, in that it doesn't charge you a monthly subscription rate and instead only charges you each time you rent or purchase a movie or TV show.  One of the unique things about M-Go is that it gets its movie content really quickly; some of the movies available to watch on it are still playing in cinemas, and can't be found on Netflix!  M-Go even allows you to pre-order movies that haven't been released yet, letting you watch them as soon as M-Go makes them available!  A notable downside to M-Go, however, is that it isn't all that widely available yet.
9. Netflix
Netflix is one of the biggest paid-for websites like YouTube.  Like many sites of its kind, Netflix forgoes the independent content that you'll find on free video-streaming websites, as well as the social media features (such as the ability to share links to videos).  The trade-off is that you'll get access to professionally-produced movies and television shows that you won't be able to find elsewhere online (because they're copyrighted or they're exclusive to Netflix).  You can watch as many of these programs as you want for just $8 per month, plus you get a 1-month free trial when you sign up.
If you're interested in Netflix, check out the Netflix course on TechBoomers.
10. iTunes
This digital media management program from Apple is better known as a music marketplace, but it has recently begun selling movies and TV show episodes, too.  They're expensive, but can be downloaded and moved to your other devices, so you can enjoy them on the go.  You'll have to download and install the iTunes program and set up an Apple ID first, though (if you haven't already).
Don't forget to have a look around Techboomers.com, where you will find lessons on over 60 other websites and Internet applications that are popular, useful, and/or just downright fun!

Techboomers.com is a free educational website that teaches older adults and others with limited computer skills how to use popular and trusted websites on the Internet.