Is Horse Riding Safe for Seniors?
Horseback riding can be an ace way for older adults and seniors who love horses to get exercise, fresh air, have fun, and socialize with other riders. It can also help improve balance, coordination, and strength, while promoting mental health. However, there are some safety precautions that older riders should take into account before hitting the trails.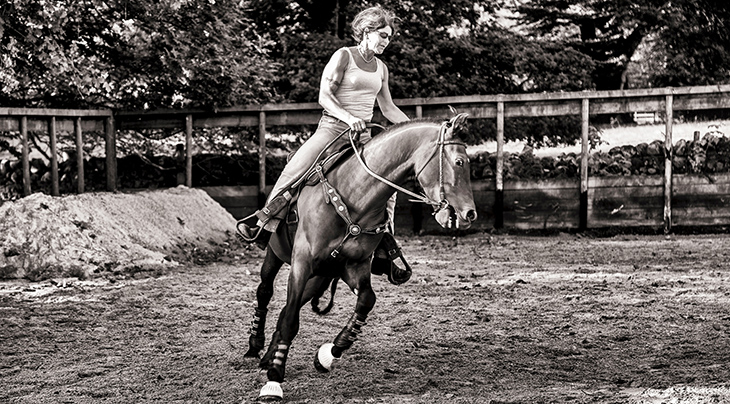 (Horse & Rider Photo: Jonathan Cosens Photography via Unsplash)
Let's review the benefits of horseback riding for seniors. We will also provide a list of safety equipment you may want to consider purchasing for your or your older parent or friend, who wants to ride.
How can Seniors Benefit From Horse Riding Lessons?
Horseback riding can have plenty of benefits for older adults and the elderly. First, it can help improve a rider's balance and coordination. It's vital for seniors to maintain their balance as they age, to prevent falls and injuries.
Riding a horse can also help improve your parent's strength. As we age, our muscles begin to weaken, and horseback riding can help slow down this process. 
Horse riding can provide riders with an opportunity to socialize with other like-minded individuals. If your older parent lives alone or feels isolated, horseback riding lessons can give them a chance to meet new people and make friends.
Additionally. riding a horse is an outstanding way to get some exercise while enjoying the outdoors. It can help improve cardiovascular health, increase bone density, and improve flexibility.
All of these elements contribute to improved mental health – feelings of empowerment, self-esteem, reduced stress levels, and increased happiness – as a result of horseback riding. 
Is Horse Riding Safe for Seniors?
As with any sport that involves height and (potentially) speed, such as motorcycle riding or downhill skiing, horseback riding is inherently a high risk activity for ALL ages. However, if you take some safety precautions you can greatly reduce the potential for an accident or injury. 
To start with, ensure that the rider is physically able to handle horseback riding. It takes a certain amount of strength and coordination to stay in a saddle. If you or your horse-mad loved one isn't physically fit, horseback riding may not be the best activity. 
Another consideration is experience with horses. If the wanna-be rider has never been around equines before, ensure they sign up for some lessons before expecting to ride off into the sunset at a gallop. 
Even if you or your parent has past experience with horseback riding, it's always a good idea to brush up on safety precautions. Make sure the rider wears the proper safety gear – such as a helmet – and that they know how to control the animal. 
Perhaps the most important consideration is matching the temperament, abilities, and skills of the rider, to the horse they will ride. An experienced horseman or woman that has extensive knowledge of the animal and it's habits (does it nip, or run for the barn if given a chance?, etc.), should assess both horse and rider.
Riding safety for all ages, and especially older adults and seniors, should always be the top priority. With planning and preparation, horseback riding can be continue to be an enjoyable activity as you age.
Useful Tips to Get Started 
Before beginning, consult with your doctor to see if horseback riding is a safe activity to take part in.
Search for horseback riding lessons near you that cater to seniors or older adults, so that you can learn or refresh your knowledge of, how properly ride and control the horse. The instructor should be experienced in teaching horse riding to adults age 50+.
Keep in mind that for anyone new to the sport of horseback riding, or for a rider that has been away from it for a while, reflexes and muscles may take some time to get into shape. Don't expect or attempt, to jump on and gallop away your first time (back) in the saddle.
Make sure the to wear the proper safety gear, including a helmet, gloves, and long pants.
Look for a horse that is gentle and has a calm temperament. Avoid equines that are skittish or easily spooked.
If horseback riding is not an option, consider hippotherapy as an alternative. This therapy uses therapeutic, assisted horseback riding programs as a way to help improve physical, occupational, and speech-language skills for people of all ages. 
Horse Riding Equipment for Seniors to Consider
1. Riding Helmet
A solid horse riding helmet is a must for anyone, no matter their age. The helmet must fit snugly on the head with the chin strap properly secured. Look for a helmet that has bents to help keep your head cool while riding. The helmet's shell must be certified by the American Society for Testing and Materials (ASTM).
2. Riding Gloves
Riding gloves are also a vital item of horse riding equipment for seniors. Gloves help protect your hands from blisters and chafing while riding. Look for gloves that are made from a breathable material such as leather or cotton.
3. Riding Boots
Boots with a heel are another important piece or horse riding gear for seniors. The boots should fit snugly around the calf and ankle to prevent your parent's feet from slipping out of the stirrups. A boot with a small heel will help keep your parent's foot in the stirrup while riding.
4. Riding Pants or Breeches
Riding pants or breeches are snug-fitting pants that end at the knee or just below the knee. This gear allows for a full range of motion while riding and prevents chafing from the saddle. Look for horseback riding breeches with a comfortable waistband that won't dig into your skin.
Some breeches have reinforced knees to help prevent wear and tear. There are also horse riding breeches available with removable padding for extra comfort in the saddle. 
Breeches are typically made from cotton, wool, or synthetic materials such as Lycra or spandex. Choose horseback riding apparel according to the climate in which you'll be riding. If riding a horse in hot weather, look for horse riding clothes made from lightweight, breathable fabrics. In colder weather, breeches made from wool or synthetic materials will help to keep you warm in the saddle.
5. Horse Saddle
A horse saddle is part of the horse tack that can be bought or rented. The saddle should fit snugly on the horse and be the correct size for the rider. A well-fitting saddle for both the horse and rider will help the rider stay secure in the saddle and make for a more enjoyable ride for both of you. 
Choose the type of saddle according to the style of riding you prefer – English or Western. There are also horse saddles designed for specific riding activities best suited to for more experienced riders, such as dressage, jumping, or racing.
Try out or consider renting a horse saddle before buying one, to see if horseback riding is something you'd like to continue doing. Most horse rental facilities or riding schools will have a variety of saddles you can try out. They will also help you choose the proper size for both you and the horse you will be riding.
What is Hippotherapy?
Hippotherapy is horse and rider-assisted therapy that uses an equine's natural movement to achieve specific therapeutic goals. The horse's movement helps improve sensory processing, motor skills, and balance. It can also help with emotional well-being, communication skills, and social interaction. This can ben an ace alternative to riding a horse if the last is no longer an option for and older adult.
Hippotherapy is best done with a licensed occupational therapist, physical therapist, or speech-language pathologist. These therapists work with the horse handler to create an individualized treatment plan for each patient.
There may also be a local volunteer organization such as T.E.A.D. (The Equestrian Association for the Disabled), which relies on trained volunteers to work with riders.
While hippotherapy can be beneficial for people of all ages, it may be especially helpful for seniors who want to try horseback riding, but are concerned about safety.
If you're interested in hippotherapy, talk to a doctor or other healthcare provider to see if it's right for you.
Common Types of Hippotherapy
There are three main types of hippotherapy:
Occupational therapy. This type of hippotherapy is focused on helping people develop skills for daily living, such as dressing, eating, and bathing.
Physical therapy. This focuses on improving movement and balance. It may also help with pain relief.
Speech-language therapy. This type of therapy has a goal of improving communication skills.
Hippotherapy can be done in a group or individual setting. It typically lasts for 30 minutes to an hour. Many insurance plans will cover at least part of the cost of hippotherapy. Check with your insurance provider to see if it is covered. 
Conclusion
Consider horseback riding lessons for older adults and seniors, as a way to keep active. Riding can help improve balance and coordination. It's also a nice way to spend time with friends or family if done as a group activity. Once you get in a saddle, you will fall in love with horses forever, if you haven't already done so. Check with your doctor before starting riding lessons. They can help you determine if riding a horse is the right activity for you.
* This article is for informational purposes only and is not intended as medical or mental health advice, nor is it a substitute for professional medical or mental health advice, diagnosis, or treatment. Always seek the advice of a qualified physician or mental health provider with any questions you may have regarding a medical or mental health condition or treatments, and before staring a new physical activity. This website does not recommend or endorse any specific tests, physicians, products, procedures, opinions, or other information that may be mentioned on the Site or on other websites it links to. Reliance on any information provided by this website or other websites it links to, is solely at your own risk.*