The World's Top 7 Wine Regions to Visit
No matter if you've been a passionate wine lover for years now or just a novice when it comes to wines, we believe that wines really do make you happy, right?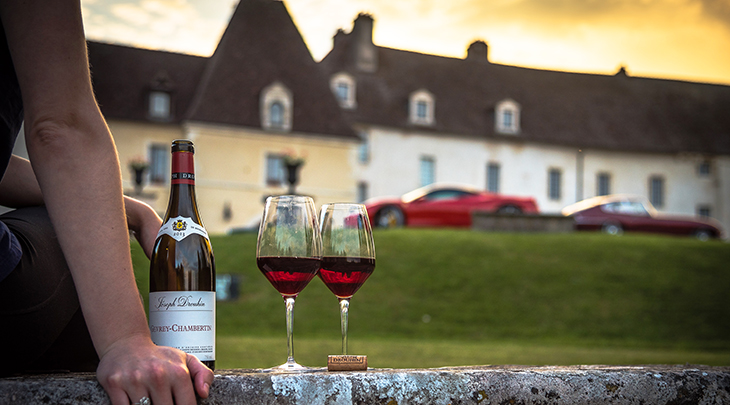 (Red Wine, Château de Gilly, Gilly-lès-Cîteaux, France Photo: Matt Lamers | Unsplash)
If that's the case with you, be sure to stay with us and keep on reading because we've prepared a list of the world's most exquisite wine regions you can visit. There are seven of them, so check them out and begin to make plans regarding your next wine-tasting trip. Take a pen and a piece of paper, and start planning!
Franschhoek, South Africa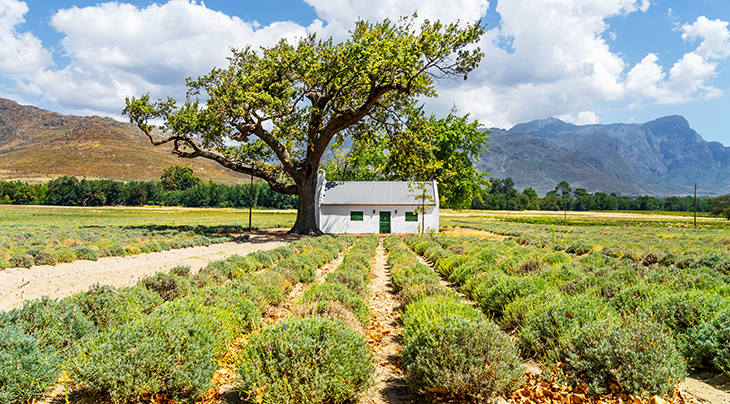 (Vineyards, Franschhoek, South Africa Photo: Tiaan van Zyl | Unsplash)
Apart from the extraordinary wines, Franschhoek, one of the most beautiful wine regions of South Africa, is well-known for it's amazing location, too. In fact, it's just an hour's drive from Cape Town, situated between the towering mountains in the heart of Cape Winelands. This picturesque village was founded back in 1688 by French Hugenots, and its main features are remarkable vineyards where you can enjoy a wide range of outstanding wines. Primarily, there are full-bodied red wines such as Shiraz Pinot Noir, as well as white ones like Semillon and Chardonnay. In case you were wondering, some of the most famous vineyards are the following: Chamonix, La Motte, Solms-Delta, and Allée Bleue, so be sure to pay them a visit if you ever find yourself in Franschhoek.
Saint-Émilion, Bordeaux, France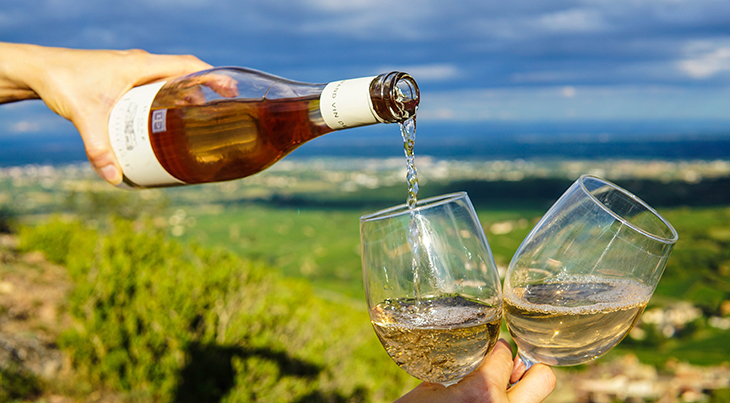 (White Wine, Solutré-Pouilly, France Photo: Elle Hughes| Unsplash)
Another famous wine region – but this time north of the equator – is located in the Bordeaux region in France. Saint-Émilion is one of the most historic wine towns in this region, so make sure to visit it as soon as possible if you're a passionate wine lover. If you want to explore this charming town to the max, you mustn't skip Les Cordeliers – a rustic winery that is located within the ruins of a 14th century Franciscan monastery. This winery is known for its sparkling Crémant de Bordeaux wine, as it has been producing this specific type of wine for more than a century. if you want to learn about the basics of wine tasting, visit the Maison du Vin of Saint-Émilion Wine School. Also, there are magnificent wineries such as Chateau Troplong Mondot and Chateau Coutet, so don't skip them and you'll see why this part of France is one of the most prominent wine regions in the world. 
Hunter Valley Region, New South Wales, Australia
(Hunter Valley Vineyards, New South Wales, Australia Photo: Jennefer Zacarias | Unsplash)
Needless to say, the Land Down Under prides itself on astounding wine regions as well, and the most important of them that deserves your undivided attention is Hunter Valley Region in New South Wales. Did you know that this the Hunter Valley played a crucial role in the history of Australian wine? That's because it's one of the first wine regions planted in the early 19th century. Even though Hunter Valley Semillon is undoubtedly the most iconic wine of the region, there are also other types produced from a variety of grapes, such as Verdelho, Shiraz, Chardonnay, and Cabernet Sauvignon. The majority of this region's prestigious vineyards are situated in the southern valley and on the foothills of the Brokenback Range. If you decide to explore this fabulous region and its fantastic wines, be sure to check out the Hunter Valley accommodation first. Both private and public wine tours are available, as well as horseback riding tours, so give them a fair shot and satisfy your inner wine lover in the best possible way.
Napa Valley, California, United States of America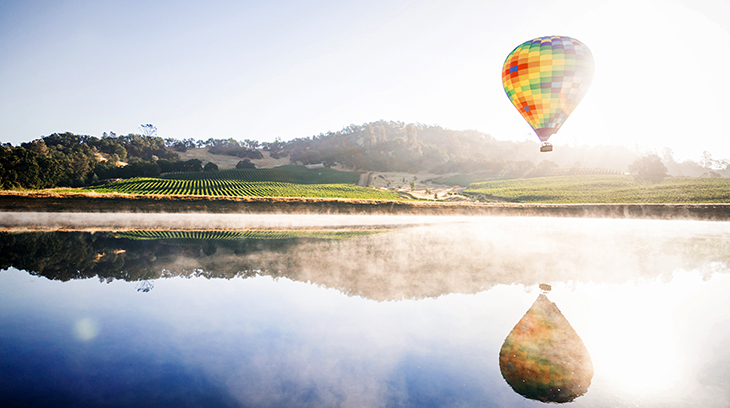 (Hot Air Ballooning, Napa Valley, California, USA Photo: Sebastien Gabriel | Unsplash)
If you've recently become very passionate and enthusiastic about wines and everything related to them, we reckon that Napa is the right place to visit. This Californian valley is undoubetdly a fabulous choice if you want to gain more knowledge and new experiences about the process of winemaking and flavor profiling, so that that into consideration as well. A large number of wineries, such as Black Stallion, Alpha Omega, Chateau Montelena, and O'Brien Estate Winery are there to offer endless tastings and tour experiences. The Cairdean Estate in St. Helena  features a contemporary tasting room with more than 20 different wines.
However, if you want to explore all across the valley, just hop on the Napa Valley Wine Train or opt for a winery-to-winery guided bike tour through Napa's best wineries. This is a great way to learn something more about wines and explore this part of California at the same time, so if you try this option you surely won't regret it.
Douro Valley, Portugal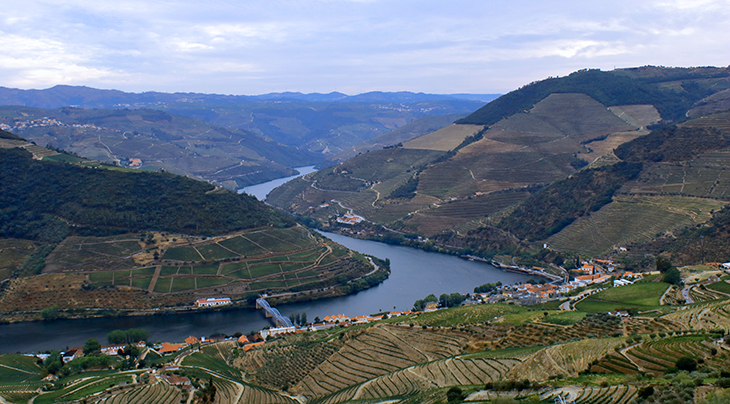 (Douro Valley, Portugal Photo: João Brandão | Unsplash)
If you're a wine lover who's already traveled to Portugal, you likely know about the iconic wine region called Douro Valley, located just a few hundred kilometers from the city of Porto. This fabulous place is actually a UNESCO World Heritage site that features numerous stone-terraced vineyards that overlook the Douro River, so be sure not to miss it if you ever find yourself in this part of Portugal. The most famous wine of this region is called Vinho Verde, the most amazing white wine you can find here; however, you must know that many wineries here also serve lesser-known table wines that were made from indigenous grape varieties. Needless to say, this is a unique chance to try such wines and satisfy your wine-loving palate, so embrace this opportunity and you'll be thankful later.
Santorini, Greece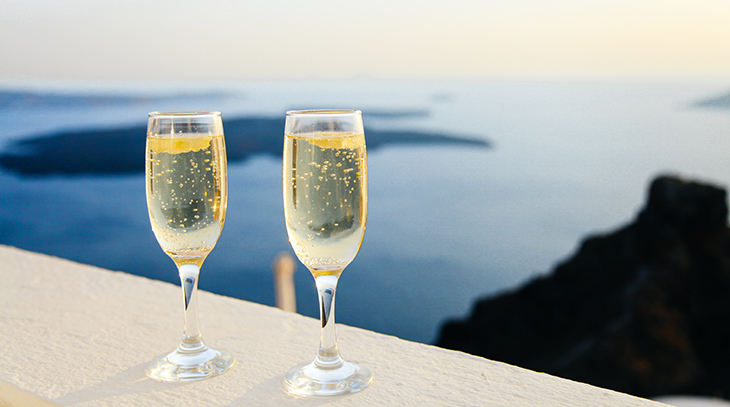 (White Wine, Thera, Thira, Greece Photo: Anthony Delanoix | Unsplash)
We'll continue our virtual wine tour of the World's Top 7 Wine Regions, with a stop in Santorini, an outstanding Greek island that should be the next stop on your Euuropean wine tour. This place is everything but ordinary, and the fact that many of the roots found in numerous Santorini vineyards are centuries old, confirms that claim. Besides that, the grape growers on this island have a very special bush-training system of growing the grapes. This system is called koulara, and it includes weaving the wines into baskets with the grapes facing towards the inside of the ring, while the leaves are left to protect against direct sunlight and harsh winds.
As for the most famous Santorini wine, we can freely say that it is Nykteri. What's interesting about it is the fact that the grapes need to be harvested at night, so that the growers avoid the hot temperatures and create the finest wine out there. Another wine typical of the history of Santorini is called Visanto. Do your best to try both of these amazing wines when on this wonderful island and you'll see what we're talking about!
Tokaji, Hungary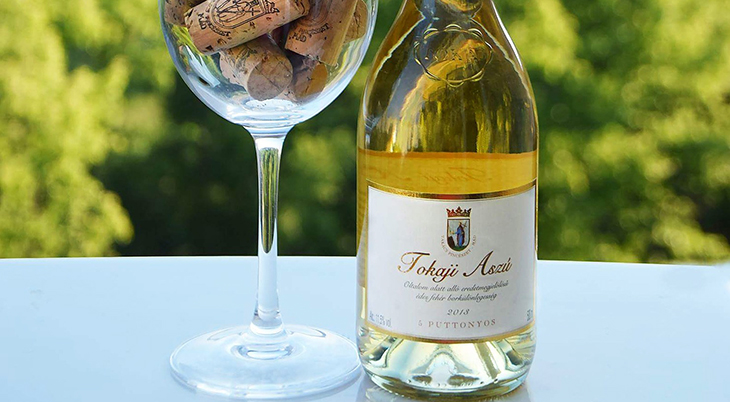 (Tokagi Aszu Wine, Hungary Photo: Zsanett Mezei | Pixabay)
Last but not least, Tokaji is yet another wine region located in the heart of Europe, which is a good enough reason to play it a visit. Did you know that this was the first established wine region in the world? That's right, so don't wait any longer to do your research on it. Wine lovers from all across the globe know that Tokaji is best known for its array of sweet dessert wines such as Aszú; however, there's much more to this wine region than just dessert wines. It also features the best dry white wines that perfectly match heavy dishes and read meat, instead of only sweet wines that pair well with desserts or foie gras. A huge expansion of this wine region happened after the Iron Curtain oblivion – especially over the last two decades, when many wineries in this area began to produce dry white wines usually made from Furmint grapes. A lot of the leading wineries in the Tokaji region are using this specific variety for making this wine, so let us know what you think about it once you try it out!
As you can see, there are many exquisite wine regions all across the globe that you simply need to visit sooner or later. Each of the aforementioned ones – Franschhoek, Saint-Émilion, Hunter Valley Region, Napa Valley, Douro Valley, Santorini, and Tokaji – deserves your attention, so invest your money into your next trip and gain more knowledge about wines in general. If that's your ultimate goal for this year or next, stick to our list, carefully plan your trips, and enjoy life to the max. That's the best way to live, isn't it?