Chic Styling Tips for Women Over 50
When it comes to fashion, being age 50+ and stylish doesn't mean you have to follow the trends blindly, nor dress like you're in your twenties.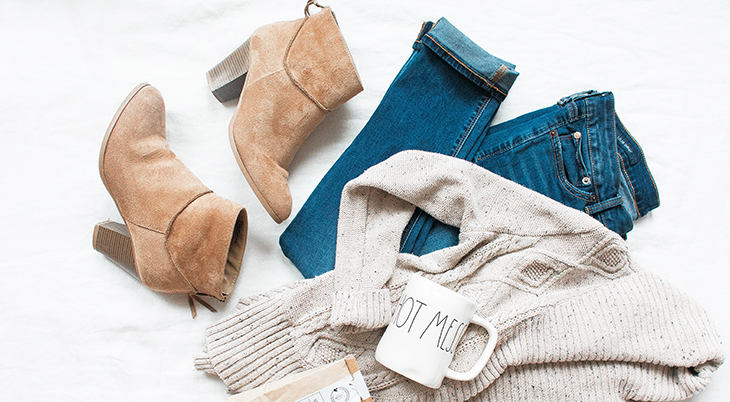 (Style Wardrobe – Jeans Sweater & Shoes/Boots Photo: Heather Ford via Unsplash)
As you age, style gets a different meaning – it exudes class, elegance and charm with a dash of sass, spark and wit. And when all of this is combined well, it usually makes you look younger anyway. You just need to have several staples in your clothing wardrobe to build from.
With this in mind, here are some fashion tips to unlock key wardrobe pieces for an utterly chic look.
Start with the basic pieces
Everyone can and deserves, to be chic, stylish, timeless, and sophisticated. It it all starts with a few wardrobe staples – a classic blazer in white and in black, a cream blouse, a crisp white shirt and a black sweater. These are pieces that won't face away and can be combined with other clothes in limitless ways to suit any occasion.
According to what a current bachelor's degree in fashion design teaches, this field currently strives to marry a sense for the classics with the extremes of experimentation. There is no foolproof recipe for success, but it does take curiosity and a sharp eye for details to be able to combine traditional shapes with modern details and a suggestion of impertinent elegance.
A perfect pair of pants
The most flattering and versatile shape on everyone is a straight, wide-leg pair of pants. If you wear shoes in the matching colour, you will elongate your legs and appear slimmer, which will additionally boost your confidence. By opting for a fabric such as crepe, you'll make sure they retain shape and appear smooth over any bumps.
You can also add a perfect pair of jeans to your basic collection. Dark denim looks more polished and elegant whereas light denim is more casual. Also, dark denim is a safer choice but bear in mind that with jeans, the cut and fit is more important than the wash.
A go-to pair of shoes
Getting older doesn't mean you need to switch to granny shoes! There's a huge choice of comfortable but stylish low-heel shoes out there just waiting for you to find them. Ballet flats are everywhere now and kitten heels are back as well, while low wedges are timeless and always comfy.
Also, you're allowed to play with colour! Your staple pair of shoes can also be a statement piece. A pair of black high heels is an undeniable classic but why not have a pair with animal print or in fuchsia or lime green?
And don't forget to add a pair of loafers – the perfect shoes to finish your look. These are so multifaceted that you can wear them to run errands and then slide into the evening for a diner with friends. 
That one dress!
You need to have at least one drop-dead gorgeous dress in your wardrobe! It should be something classic in cut, short-sleeved or 3/4 sleeves, knee-length, and well-shaped at the waist to give you a flattering figure. A good trick is to have some sort of a lace overlay as it can successfully hide any bumps and lumps.
High-quality underwear
Don't be cheap when it comes to underwear. You can't directly see it but the ill-fitting effect of bad underwear is always visible.
It's imperative you have your bra properly fitted and no woman should be without a perfect bra in her wardrobe, especially for larger bust sizes. Also, wearing the proper shapewear underneath your clothes can do magic in smoothing out lines.
The right accessories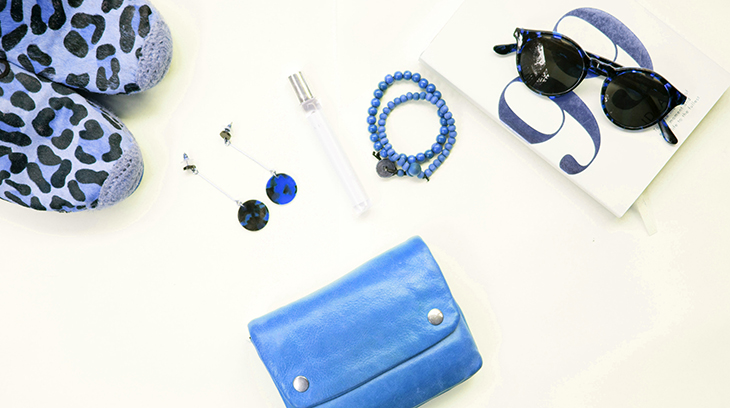 (Blue Accessories Photo: s-o-c-i-a-l-c-u-t via Unsplash)
It happens too often that women wear big statement jewelry and end up looking unsophisticated and cheap. When you're over 50, strong, confident and elegant, it's better to err on the side of minimalism. For instance, a woman carrying a statement bag will demand all the right attention.
Fashion is fickle but one thing that is always in style is a nice watch. Even if you can't afford a classic Cartier, you can still find something similar and equally lovely. Plus, with perfectly manicured nails, you will look like a million bucks anyway!
Be brave!
There's no reason older women shouldn't wear more colour, designs and prints. You should never feel like you need to blend in or turn down your look just because you're mature! A well-tailored suit or a dress in a bright colour or with a bold print, can look quite sophisticated and young without being immature or obnoxious. There's really no limitation to what you can try as long as you feel great in it!
This is just the start of building your fabulous wardrobe! Once you've established your clothing basics, you can add your own touches and develop your unique style, based on the experience that you have gained over the years. That is the upper hand of being over 50, so use it to your advantage – don't blend in with the senior crowd, but go out and start turning heads!
*This article is for general informational purposes only. 50+ World does endorse any product or service providers, nor does it receive remuneration from them. Obtain expert advice about your unique situation.*