Touring Ireland's Ancient East
My husband and I must have the "luck of the Irish", as we returned to Ireland for another visit.
We chose an itinerary that is a little different than the regular tourist tours. Ireland's Ancient East is more of a historical tour on the backroads of Eastern Ireland.

(Wexford Harbour, Wexford, Ireland)
This is the first time we've flown Aer Lingus – a direct flight from Toronto to Dublin – and I must say the food was very good.
County Wicklow
Glendalough Monastic Site
(Glendalough Monastic Site Gateway)
As soon as we arrived and collected our luggage, it was off by tour bus south to Glendalough in County Wicklow.
We had a full Irish breakfast before a short tour of the Glendalough Monastic Site. 
There are buildings dating back to the 6th century.
To enter you walk through the "Gateway".
It was quite peaceful and quiet as we walked towards the settlement and cemetary.
This entrance is Ireland's only surviving example of a medieval gateway to an early monastic city.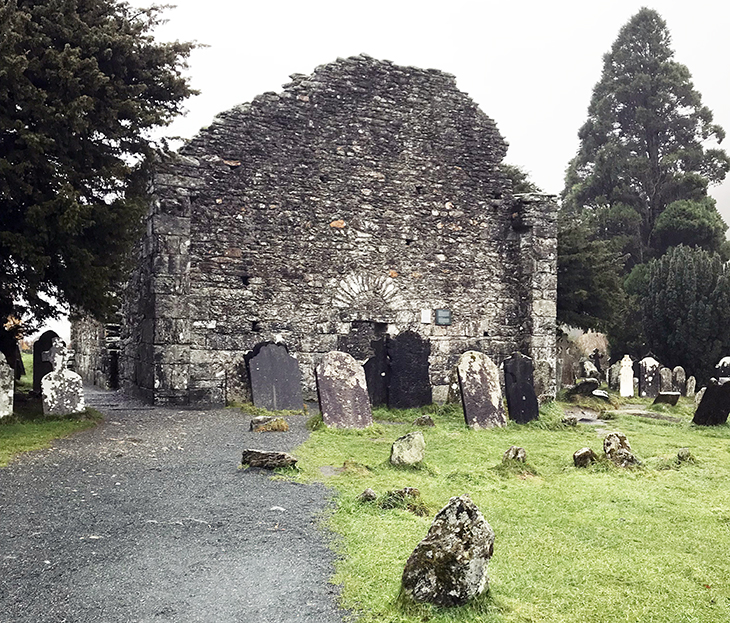 (Glendalough Monastic Site Cemetary)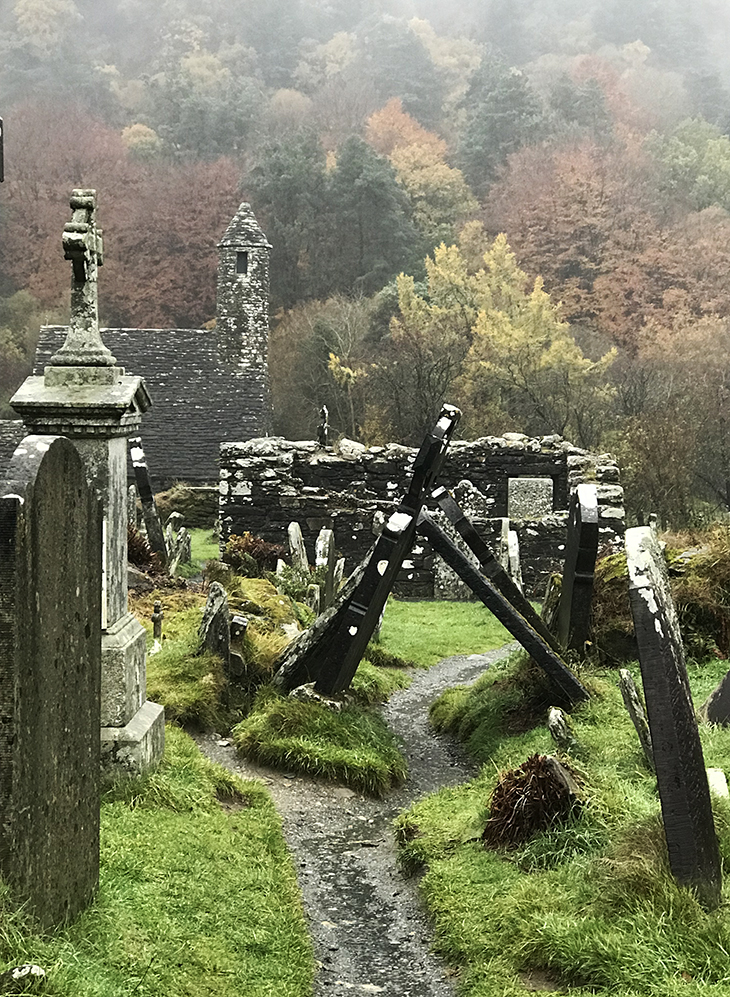 (Glendalough Monastic Site Tombstones)
There are many historical buildings in this settlement, but what intrigued us the most were the numerous, very old tombstones.
Sadly, the majority are not taken care of and are falling over.
Many were not readable.
The main reason is because generations have passed away or have immigrated to other countries, especially due to the many famines over the years.
However, walking around you get a sense of peace and intrigue. Our curiosity was stirred and we'd love to choose one or two stones and do an ancestry of them.
Avoca Handweavers Mill
Time to visit a little happier place – the oldest handweaver mill in Ireland.
The Avoca Handweavers Mill (Avoca Villlage, Wicklow) is also one of the oldest handweaver mills in the world; it was mentioned on an ancient map dating back to the first century A.D.
In 1723 it was the place to be, with sheep farmers meeting to spin and weave their wool. In the 18th century the valley of Avoca was a booming community that included mining copper, zinc, lead, and gold, in addition to sheep farmers and wool weaving.
In the mid-1800s Mr. Nicholas Dunne purchased the property, making blankets for the army and unions. He made flannel in white, grey, and red colours, using local plants as a source of dye.
In 1926 the Wynne sisters purchased the mill and brought in vibrant colours, selling their goods internationally.
The Avoca Handweavers Mill was purchased by the Pratt family in 1974, and they retain ownership today.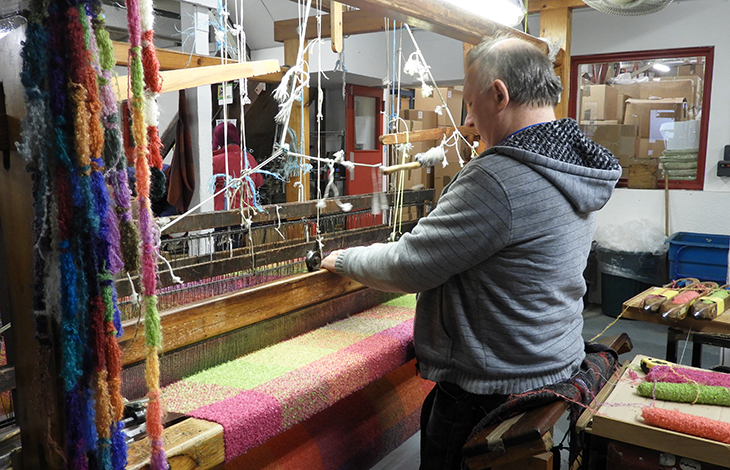 (Avoca Handweavers Mill)
One of their workers is retiring after over 40 years of weaving. You could tell that he is "family" as the owner tried to persuade him to stay on.
Wicklow Gaol
Last stop of the day before heading to our hotel for the night was Wicklow Gaol (pronounced Jail), located on the coastal town of Wicklow in Wicklow County.
(Wicklow Gaol Jail Cells)
Keeping with our theme of the day, the Wicklow Gaol is the oldest in Ireland.
That's right! We went to jail.
This gaol dates back to 1702 and served as a jail until 1924. It was not easy to be an inmate. They had a very hard life, especially if they were taken to the dungeon where the punishment was severe.
The oldest person held in the Wicklow Gaol was 90-year-old Ellen Walsh – jailed for not paying her taxes. One of the first inmates of Wicklow Gaol was Father Owen McFee; he was arrested in the early 1700s for having a Catholic Mass (back then it was against the law).
(Below) In the front of the gaol at the top is where they had public hangings.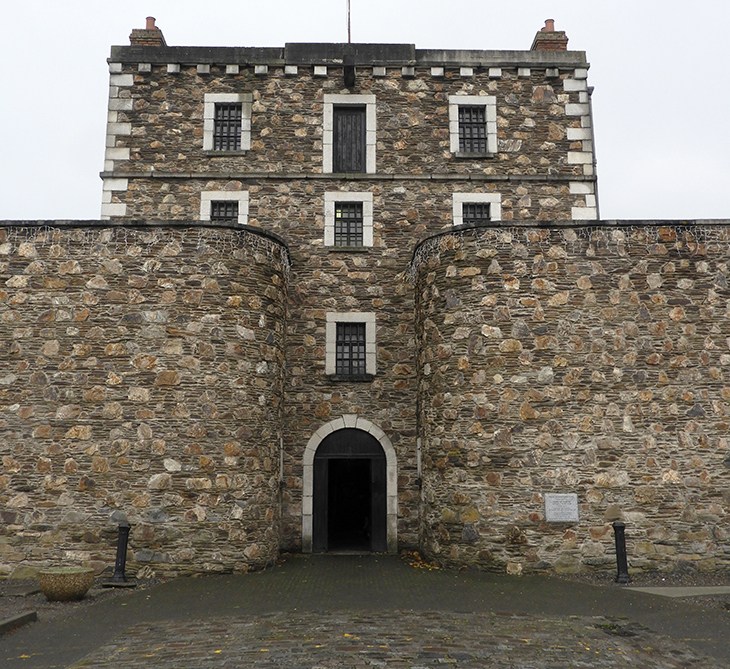 The inmate had to pay for the rope which hung them. If they couldn't pay, then their family had to; if the family couldn't pay, then they were jailed too, creating a continuous cycle of injustice.
County Wexford
Dunbrody Famine Ship
After a great night's sleep we were ready for a new day. First stop was a visit to the Dunbrody Famine Ship, located in the town of New Ross, in County Wexford. 
The Dunbrody Famine Ship is a reconstruction of the original ship that was built in 1845 by Thomas Hamilton Oliver, an Irish emigrant. As you watch a 9-minute audio-visual presentation, you get a feel for what life was like during the potato famine, and why so many died or emigrated to other countries.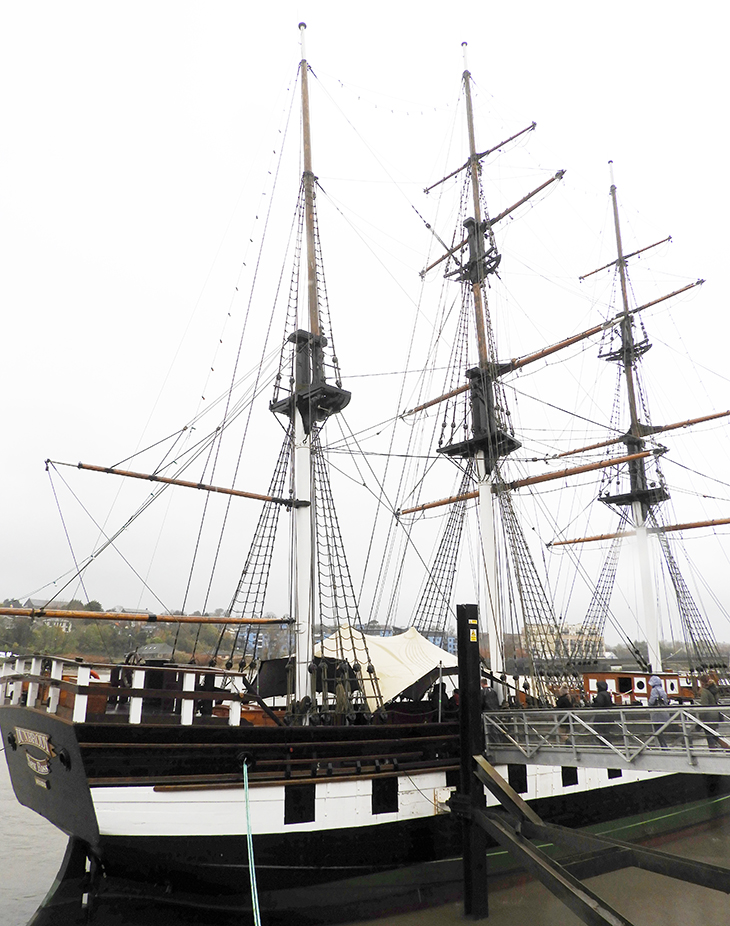 (Dunbrody Famine Ship)
On the ship, you are drawn into the story of how the emigrants had only 30 minutes in a 24-hour time period to be up on deck in the sunshine or rain. During that time they had work to do so it wasn't a relaxing journey. 
Below deck we were treated to a story by an actor, giving an account of how her family of 10 had to take turns sleeping on a 6'x6′ bed, alongside any belongings they'd brought with them.
The parents and 2 children passed away during the voyage, so other family members in America had to take the surviving children.
To discourage pirates and others from attacking the ship, The Dunbrody was painted on the outside with white stripes to signalling the ship was armed. The reality was that they weren't armed at all, but the pirates thought they had cannons on board.
County Waterford
Kennedy Homestead
We headed south-west into County Waterford and the town of Waterford, which is internationally famous for it's Waterford Crystal.
Moving forward a few years in history, we stopped at the "Kennedy Homestead". President John F. Kennedy visited Ireland in June 1963. The homestead is the birthplace of JFK's great-grandfather, and is still owned by his descendants.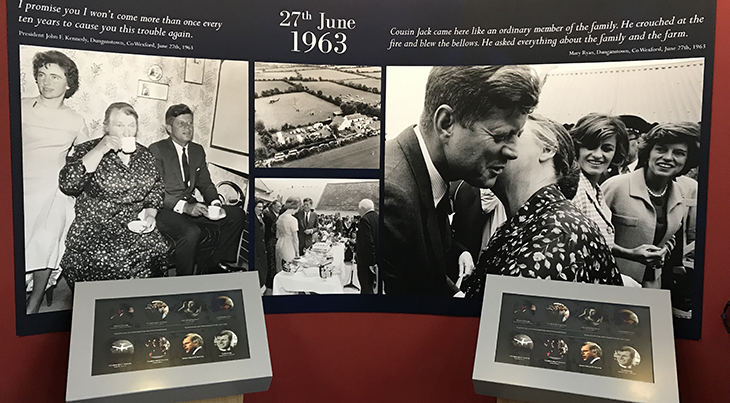 (JFK Kennedy Homestead Visit)
President Kennedy stopped by to visit his cousin and have tea, and promised to return with his wife and children. Unfortunately he was assassinated a few months later.
Jacqueline Kennedy fulfilled JFK's promise in June 1967 when she secretly visited Ireland with her children, and made an appointment to have tea with his cousin again.
The museum houses JFK's rosary beads that he had on him when he was assassinated, as well as his Commander-in-Chief dog tag that is given to every President.
Waterford Medieval Museum
Travelling back several hundred years in history again, we visited the Medieval Museum in Waterford.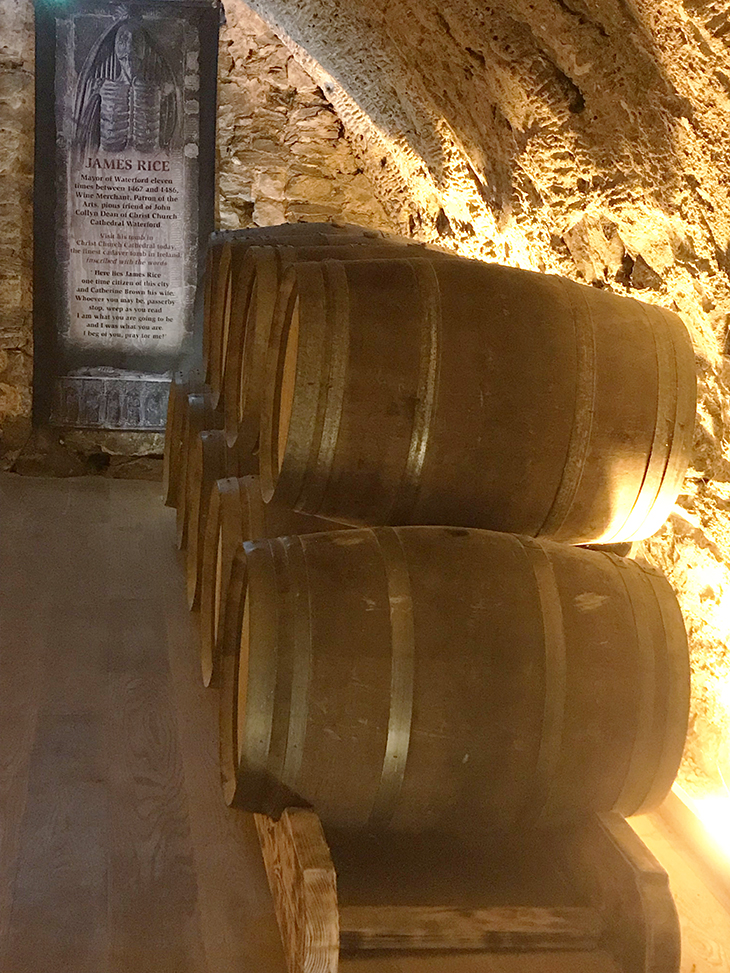 (Medieval Museum Wine Cellar)
There are 3 historical buildings on the Waterford Museum of Treasures site – the Medieval Museum, Reginald's Tower, and Bishop's Palace. 
In the Medieval Museum we saw the 15th century Mayor's Wine Vault that held the wine barrels. 
Waterford is Ireland's oldest city as it was founded in the 9th century by the Vikings.
It was claimed by Strongbow for the Normans in 1170.
Fascinating treasures are displayed throughout the museum.
We heard the story of the medieval vestments on display.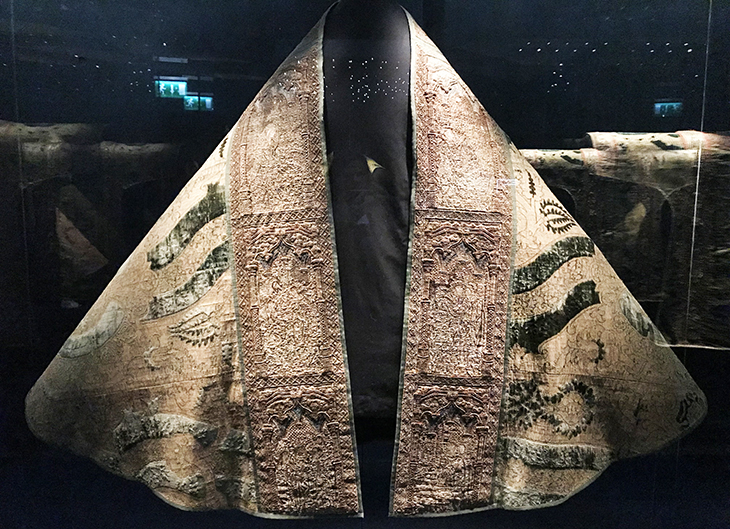 (Medieval Museum Vestments)
These vestments are made from Italian silk, woven with gold. They were deemed lost for 123 years and are the only full set of medieval vestments to survive in northern Europe.
County Tipperary
Ormonde Castle
We ended our day with a beautiful rainbow over beautiful Ormonde Castle, located on the River Suir in Carrick-on-Suir, County Tipperary.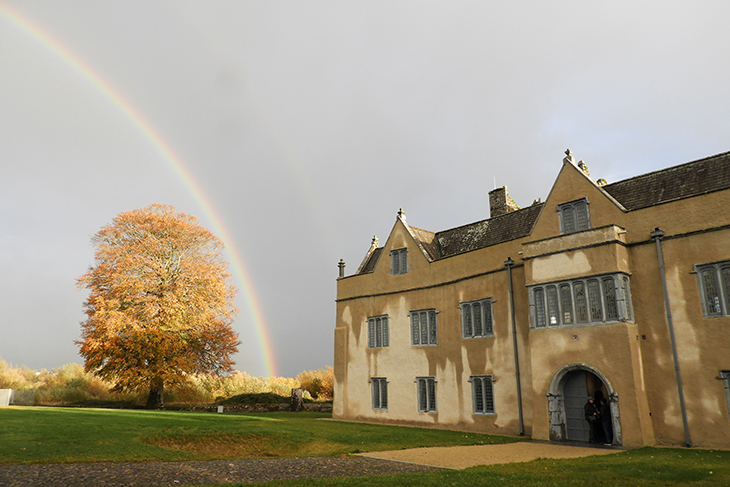 (Rainbow Over Ormonde Castle)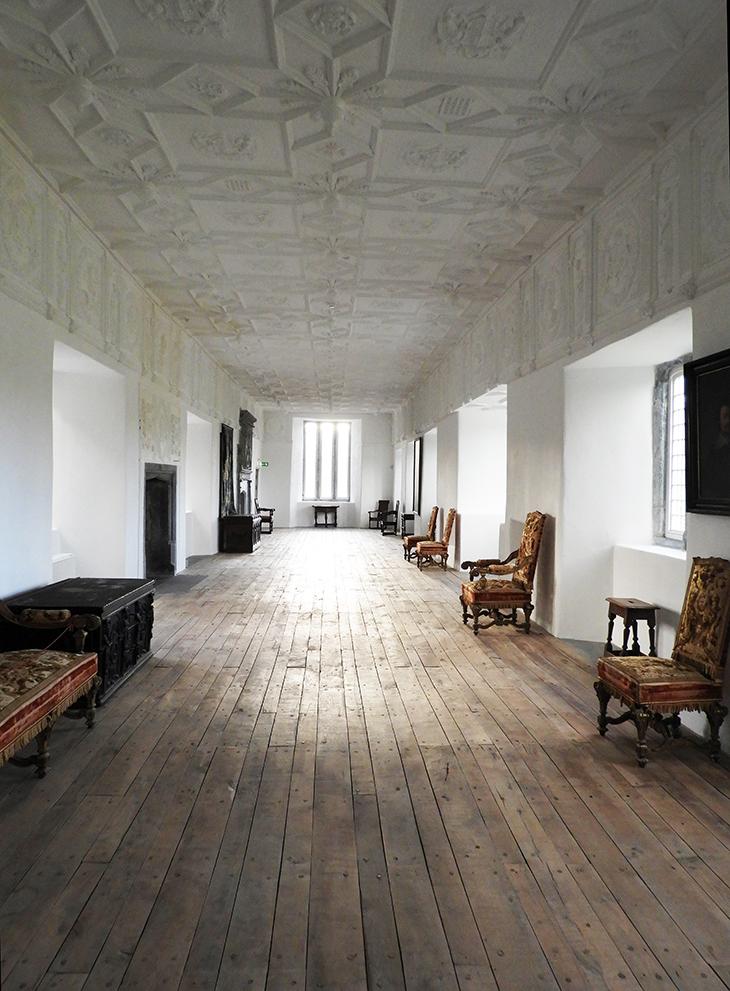 (Ormonde Castle Long Gallery)
Ormonde Castle was built before 1315 and was given to the Butler family.
Thomas Butler, who was the 3rd Earl of Ormonde, spent many years visiting his cousin, Queen Elizabeth I.
The castle included a long gallery which used to feature tapestries, a limestone fireplace, and stucco representations of Queen Elizabeth I.
Queen Elizabeth I promised to visit him someday but unfortunately never did. 
Thomas' descendant James Butler renovated Ormonde Castle in the 17th century, but it was abandoned by the Butler family after he died in 1688.
County Kilkenny
Jerpoint Park Lost Town & Sheep Herding Demonstration
Before we were treated to a sheep herding demonstration, we had a tour of the Jerpoint Park grounds.
Jerpoint Park is located south of the town of Kilkenny, in County Kilkenny,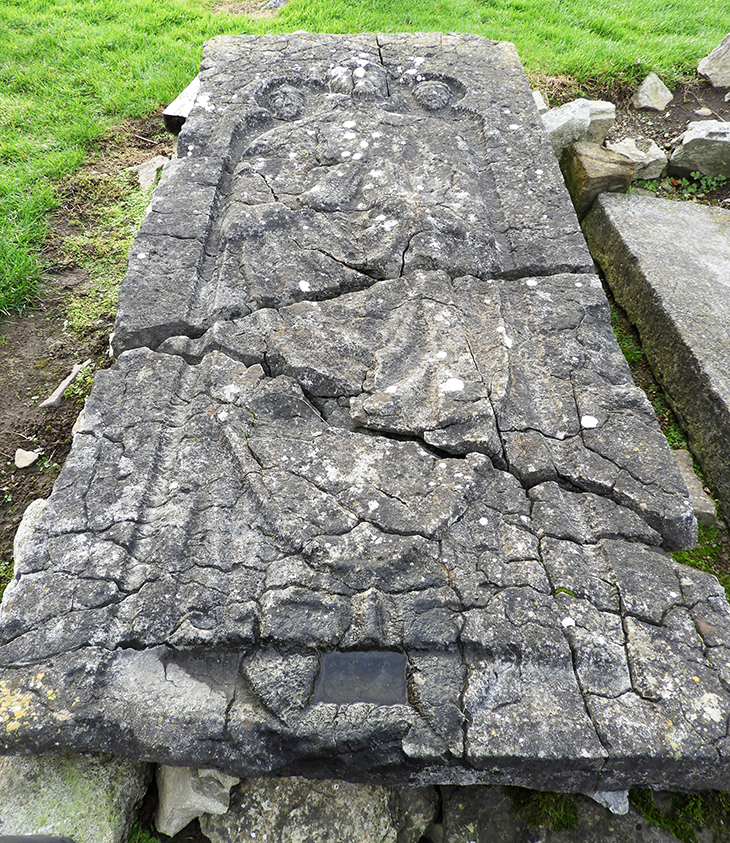 (Tomb of St. Nicholas, Jerpoint Park Lost Town)
Jerpoint Park is known as the "Lost Town".
The present owner of the property discovered the 12th century lost medieval town of Newton Jerpoint when he purchased the property in 2008; the town had "vanished" from all records in the 1600s. 
There are approximately 27 houses, 14 taverns, a tannery, brewery, woolen mill, courthouse, and a church which contains the Tomb of Saint Nicholas.
Saint Nicholas was the saint that gave his life and money to the poor, which inspired today's Santa Claus.
(Jerpoint Park Sheep Herding Demonstration)
Not far from Jerpoint Park are the ruins of a 12th century Cistercian abbey.
Jerpoint Abbey was built in 1180 and is an Irish national monument today.
After our history lesson and tour of the property, we watched an amazing two-year-old border collie listen to every command of the owner as he herded sheep into place.
Sheepherding demonstrations are held a couple of times a day and you'll need to schedule your Jerpoint Park visit around those times if you don't want to miss it.
We were treated to Irish tea & scones with homemade jam and whipped cream. So delicious!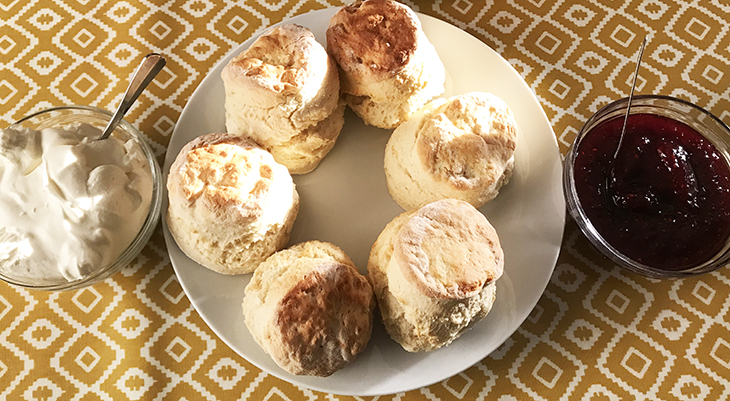 (Tea & Scones at Jerpoint Park)
County Offaly
Birr Castle, Gardens & Science Centre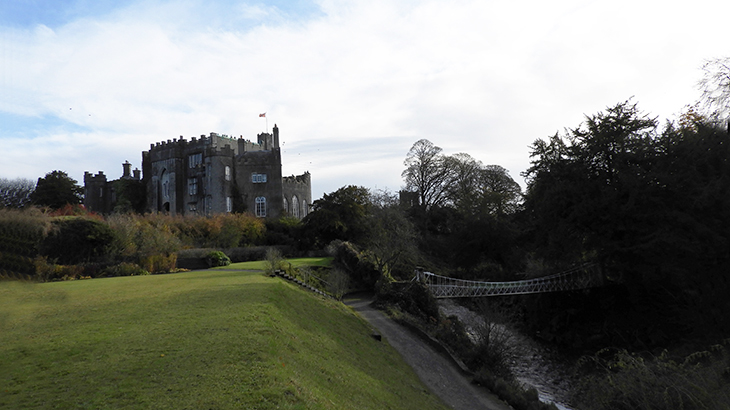 (Birr Castle)
Our final day took us to Birr Castle, near the town of Riverside in County Offaly. 
This isn't just a castle! It is owned and used by the 7th Earl of Rosse and his family today; they are related to Princess Margaret.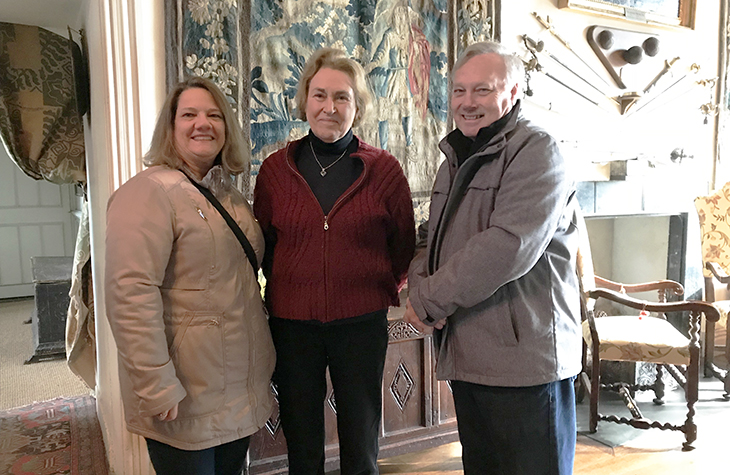 (Lady Rosse with Ray & Sandra Swash at Birr Castle)
We toured the main floor of the castle and spoke with Lady Rosse.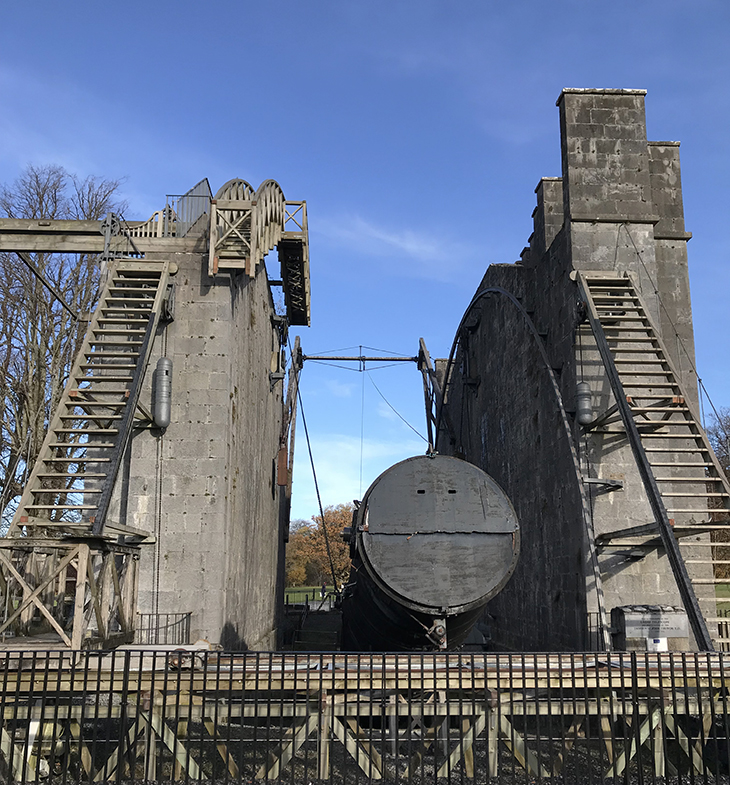 (Birr Castle Telescope)
In 1845 the 3rd Earl of Rosse (William Parson) completed building what was then the largest telescope in the world (a record held for 70 years). 
The 7th Earl's family plans to restore the telescope in time for a big 175th year celebration in 2020. 
Birr Castle is also known for:
itt's beautiful gardens and landscape with rare trees, flowers & wildlife
the largest treehouse in Ireland
5 miles of trails along the river and lake
the invention of the steam turbine.
County Westmeath
Kilbeggan Whiskey Distillery
What's a visit to Ireland without a taste of whiskey? We stopped at the Kilbeggan Whiskey Distillery in Kilbeggan, County Westmeath for a tour and a tasting. 
The Kilbeggan Whiskey Distillery is the oldest licensed distillery in Ireland, dating back to 1757.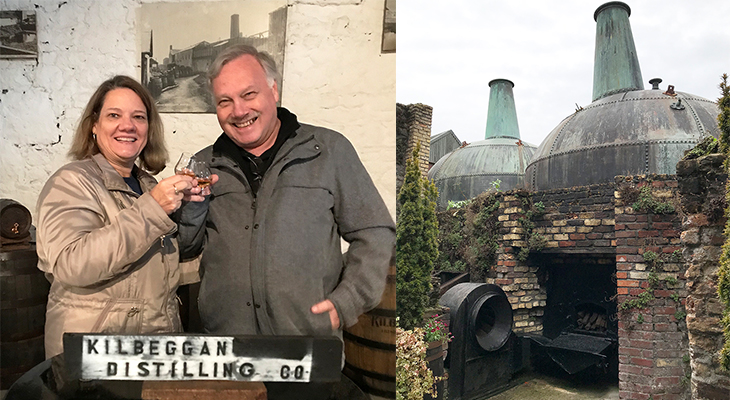 (Kilbeggan Whiskey Distillery Whiskey Tasting & Ancient Whiskey Pots)
We saw how they made whiskey hundreds of years ago, up until today. Not much difference, other than the equipment used today.
County Kildare
Irish National Stud Farm & Gardens
We ended our Ireland's Ancient East tour with a stop at the Irish National Stud & Gardens near the town of Kildare in County Kildare.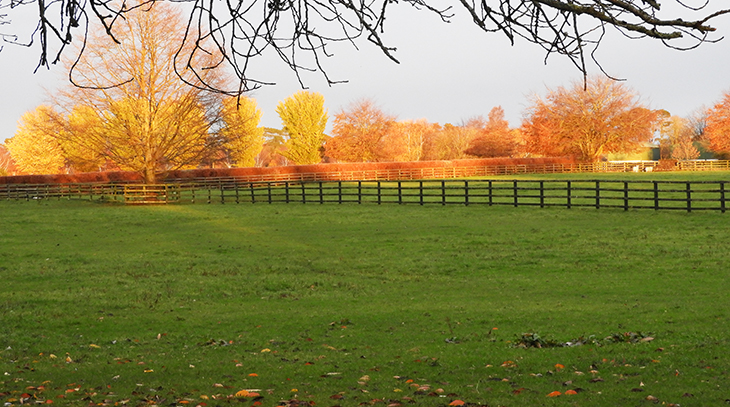 (Irish National Stud Farm)
We'd visited here a few years ago, and it was nice to go again at a different time of year. 
Ireland Travel Tip: Fall is a good time to visit Italy, as there are less tourists and the fall colours are beautiful. However, the temperatures are much cooler and rain is the norm. Pack for all temperatures and bring an umbrella. Rain or shine, Ireland is beautiful to see.
The stud farm is a place where owners of horses ship their horses or use artificial insemination in order to have race horses that will hopefully make them a lot of money someday. It's a beautiful farm and the horses are treated like royalty!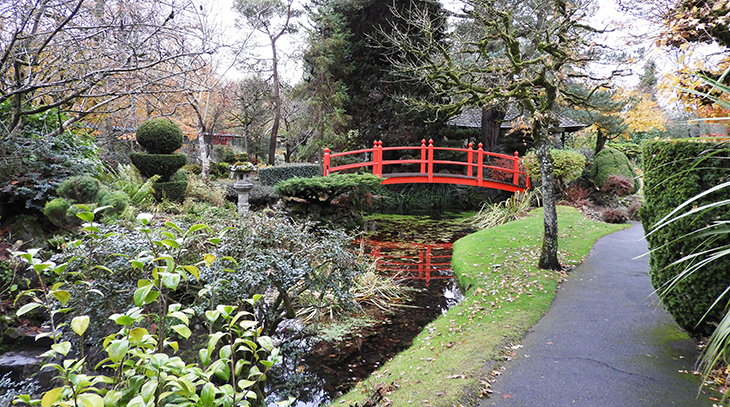 (Japanese Gardens at Irish National Stud)
*All photographs & text in this article are © 2019 Sandra Swash. All rights reserved. Do not download or reproduce without written permission.*