Technology for Seniors: Tumblr
Tumblr article source: What is Tumblr and How Does It Work? by TechBoomers.com
What is Tumblr and How Does It Work?
If you're looking to start an online journal (a.k.a. a weblog, or "blog" for short), deciding which website to use can be very overwhelming. There are so many options available, all with different user bases and purposes. If you're looking for a blog service that has a large user base, offers many ways to personalize your contributions, and allows you to create multiple pages within your blog easily, then Tumblr may be the website for you.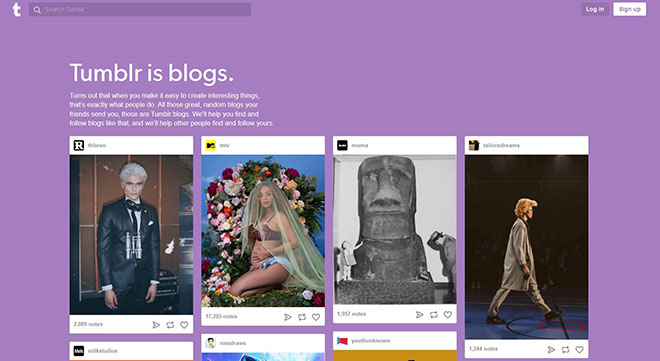 So what exactly is Tumblr?
Tumblr is an online journal (commonly known as a "blog") service, where people can post things that they enjoy, do, think about, find interesting, and so on. Tumblr makes it easy to pick a theme to give your blog personality, and post seven different kinds of content. You can also re-post other people's posts.
We should note that people of all ages use Tumblr, but it's most popular among younger people.  Therefore, this is a course that you might want to take alongside your children or grandchildren (unless you're one of those "younger people" mentioned)!
How does Tumblr work?
Sign up for a free account on Tumblr and start your own blog(s).
You can sign up and use Tumblr for free. Start your first blog about whatever topic interests you! You can even make multiple blogs using your one account – maybe you want one blog to post about your personal life, one for photography, and one for your favourite sport. You can decide for each individual blog whether you'd like it to be public, or kept private so only you can see it.
Post your own original content to your blog, or repost already existing content you find on another Tumblr blog.
Tumblr makes it super easy for you to post all different kinds of original content – text, photos, videos, and more. The site also makes it easy for you to "reblog" or share someone else's content on your own blog. If you see a post you like, and want to share it on one of your own blogs, just click the "reblog" icon below the post.
Find and follow other Tumblr blogs about topics that interest you.
Use Tumblr's search options to find other users' blogs that you find interesting. If you like sports, maybe you'll want to find some sports-related blogs to follow. When you follow another user, their posts will show up on your timeline. Your timeline will show posts from everyone you follow in chronological order. This makes it easy for you to stay up-to-date on all your favourite blogs.
Show some love to other Tumblr users' content by giving it a "like."
If you see a post you really enjoy, but don't necessarily want to share it on your own blog, you can still show it some love by clicking the heart icon below the post. This will let the user who posted it know that you liked it. The more likes a post has, the more likely it is that other people will see it. By liking someone else's post, you might help it get more exposure so other people can enjoy it too!
5 cool features of Tumblr to get you started
1. Create as many blogs as you want.
Tumblr gives you a default blog when you create your account, but you can create multiple secondary ones, if you wish.  One for recipes, one for motivational quotes, and one for cute pet pictures… it's up to you how many blogs you have, and what you use them for.
2. Multiple easy content-posting options.
Tumblr takes the hassle out of posting different types of content. Want to just write something? Upload a photo? Share a song or video? Just click the type of content that you want to post, follow the on-screen prompts, and voila – post created!
3. "Reblogging" makes sharing easy.
Did you find a post on someone else's Tumblr blog that you really like? Did you want to put it on one of your blogs, but were afraid that you'd have to try and recreate it from scratch? Fear not! The "reblog" feature allows you to copy other people's posts (giving them credit, of course) with a few quick clicks.
4. Put your personal stamp on a blog with a theme.
Tumblr has lots of different ways for you to set up the layout of your blog. You can pick a pre-made theme, or — if you or someone you know is good at writing computer code — make your own custom theme!
5. Search and explore a world of online journals.
There are a lot of different types of content on Tumblr, with so many different people creating just as many different blogs. You can explore what interests you, or search for something specific.
Is Tumblr safe?
Tumblr is generally safe to use. Your blog is automatically viewable to the public, but you can choose to make it private if you don't want others to see it. Never post about your personal or financial information. If you see something that shouldn't be on Tumblr, report it. If someone is bothering you, block them.
To learn more about how safe Tumblr is, as well as some tips to increase security, check out the TechBooomers Tumblr safety article here.
Is Tumblr free?
Tumblr is free to sign up for and use. You don't have to pay for any of the basic features, like creating a blog, posting content or reposting someone else's content. The only thing you may end up spending money on is if you find a custom theme for your blog that you want to purchase. Otherwise, it's all free!
If you're interesting in finding out more about the potential cost of Tumblr, as well as how Tumblr makes money, check out the TechBoomers article on the about the costs associated with Tumblr here.
Pros and cons of Tumblr
There are lots of reasons why Tumblr is a great site to use, but there are also a few not so great things about it. Some good things about Tumblr are that it's free to use, and the interface is really user-friendly. Even if you're new to blogging, you'll be able to use Tumblr with ease.
On the other hand, some negative aspects of Tumblr are that it has limited search features, so unless content is tagged with a particular word, you probably won't be able to find it. Tumblr is also very much geared towards younger generations, so if you're a little older you might not find very much content that will interest you.
If you want to learn more about the good and bad of Tumblr, check out the TechBoomers review of Tumblr.
Tumblr Alternatives
Tumblr is a great website to try out if you're new to online journaling or blogging. It's free to sign up for and the interface is very straightforward. However, maybe Tumblr just isn't right for you. Luckily, there are some other websites like Tumblr that may be better for your needs. If you're looking for a site that's a little fancier and has more advanced features, try out WordPress.com, Wix.com, or Weebly.com. Some other great (and free) online journaling sites you might enjoy include Blogger.com and Soup.io.
Check out the TechBoomers sites like Tumblr article to learn more about all of these alternatives.
That's TechBoomer's basic introduction to what Tumblr is and how it works! Throughout the rest of their Tumblr course, they'll teach you how to sign up for a Tumblr account, create a Tumblr blog, and post on your Tumblr blog. They'll also show you some other neat tricks that you can do with Tumblr, such as copying other people's blog posts to your blog (known as "reblogging"), or changing the theme of one of your Tumblr blogs. Tumblr is one of the easiest websites with which to start an online journal — plus, it's by-and-large free to use — so why not give it a try?
And, of course, don't forget to have a look around Techboomers.com, where you will find lessons on over 60 other websites and Internet applications that are popular, useful, and/or just downright fun!

Techboomers.com is a free educational website that teaches older adults and others with limited computer skills how to use popular and trusted websites on the Internet.