Technology for Seniors: Tripping.com
Tripping.com article source: What is Tripping.com? + How Tripping.com Works by TechBoomers.com
What is Tripping.com? + How Tripping.com Works
Booking a rental property instead of a hotel can be a fun way to get a different experience when you're away on vacation, and maybe even save some money.  But there are lots of different booking websites out there, so how do you know what's available or what the prices are like without checking them all out?  Fortunately, that's where Tripping.com comes in.
So what exactly is Tripping.com?
Tripping.com is a search engine for rental property listings.  It collects listings from affiliated websites, and then compares their prices so that you can get the best one.  It also allows you to search listings for specific amenities, or sign up to receive daily discounts through promotional codes.
Oh, and did we mention that using Tripping.com is 100% free?  Because it is!
How Tripping.com works: 4 reasons why you should use Tripping.com
1. Choose from over 8 million rental properties listed worldwide.
From Berlin to Myrtle Beach, from Rio de Janiero to San Francisco, Tripping.com has partnered with over 35 major rental property booking websites worldwide.  That allows you to search many more listings from all over the globe than you would be able to on an individual booking website.
2. Select the amenities that you're looking for.
Looking for a place within a specific price range?  Or maybe you want it to have a certain number of bedrooms or bathrooms?  Or maybe you're looking for a place with a pool, wireless Internet, or amenities for pets?  Whatever you want in a rental property, just let Tripping.com know, and they'll filter your search results for you!
3. Compare listing prices to make sure that you get the best one.
Sometimes, a rental property will be listed on more than one booking website at a time.  Fortunately, Tripping.com has done the work for you in this regard, as they'll show you the nightly rate for all of the websites that a particular listing is posted on.  From there, just pick the website that you want to book with, and away you go!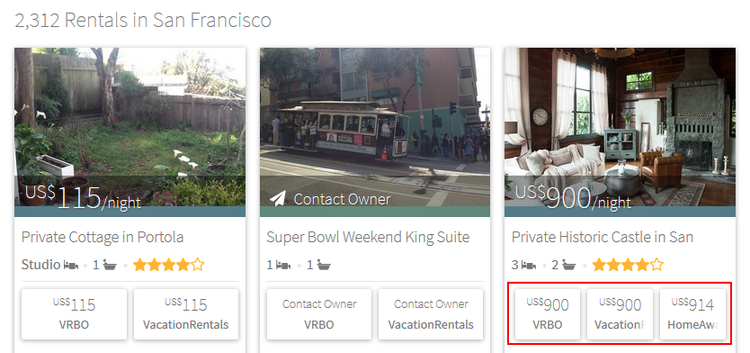 4. Get even better prices by signing up for daily deals from Tripping.com.
All that you need is an email address to get even more out of Tripping.com.  Just sign up for their daily deals, and you'll get promotional codes that you can use towards bookings on their partner websites.  They'll even point you in the direction of some of their most popular but best-valued deals!
TechBomers Tripping.com course will show you around the website.  They'll touch on how to search for rental property listings by entering your destination and check-in / check-out dates, how to filter listings by specific location and/or amenities, and how to sign up for more daily deals on Tripping.com.  Planning a vacation is a lot of work… but finding the right rental property to stay at won't be with Tripping.com!
And, of course, don't forget to have a look around Techboomers.com, where you will find lessons on over 60 other websites and Internet applications that are popular, useful, and/or just downright fun!

Techboomers.com is a free educational website that teaches older adults and others with limited computer skills how to use popular and trusted websites on the Internet.