Kirk Douglas, Spartacus Ends Blacklist (1959-1985)
Kirk Douglas is 100, Part 2 of 3
While filming his third movie with Burt Lancaster in London - The Devil's Disciple (1959), another project from Bryna Productions - actor Kirk Douglas has said he was set on recruiting their co-star Laurence Olivier for his upcoming movie Spartacus. With his producer hat firmly in place by now, Kirk Douglas and Bryna Productions served as co-producers again for the drama Strangers When We Meet (1960). Kirk Douglas co-starred with Kim Novak in Strangers When We Meet, along with Ernie Kovacs, Walter Matthau, Kent Smith, and Roberta Shore (The Virginian). 
The screenplay for the gladiator epic drama Spartacus (1960) was written by blacklisted screenwriter Dalton Trumbo and based on the novel by blacklisted novelist Howard Fast (also known by pseudonyms E. V Cunningham and Walter Ericson). Both Dalton Trumbo and Howard Fast had spent time in prison for contempt of Congress charges by the HUAC (House Committee on Un-American Activities) and struggled financially thanks to the blacklisting. Bryna Productions produced Spartacus, which starred Kirk Douglas as Spartacus and John Gavin as Julius Caesar. Also in the cast of Spartacus were Laurence Olivier, Jean Simmons, Charles Laughton, Peter Ustinov, friend Tony Curtis, and uncredited character actors Richard Farnsworth and Robert Fuller.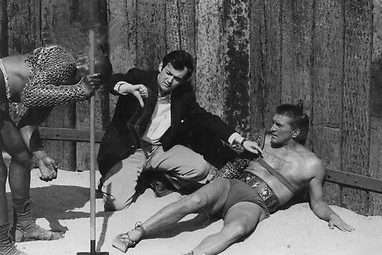 Kirk Douglas has said he had several battles with both director Stanley Kubrick and actor Charles Laughton during the filming of Spartacus. After filming ended, Douglas continued to enjoy lifelong friendships with Tony Curtis and John Gavin.
Left, Stanley Kubrick directs Kirk Douglas on the Spartacus set in 1960. (Photo: Bryna Productions | Wikimedia Commons / Public Domain)
Kirk Douglas' announcement that blacklisted screenwriter Dalton Trumbo had written the script for Spartacus is credited with helping to end the Hollywood blacklist, enabling many talented actors and writers to (openly) practice their craft again. Two years later, Bryna Productions hired Dalton Trumo again to write the screenplay for Lonely Are The Brave (1962). Kirk Douglas co-starred with Gena Rowlands, Walter Matthau, Carroll O'Connor, and George Kennedy in Lonely Are The Brave. This was the third movie to co-star Walter Matthau and Kirk Douglas, after 1955's The Indian Fighter and 1960's Strangers When We Meet.
In the crime drama Town Without Pity (1961) about soldiers in a German village, Kirk Douglas co-starred with E. G. Marshall and Robert Blake. E. G. Marshall and Kirk Douglas had appeared on Broadway together in 1946, and would re-team again another war movie, the star-studded Is Paris Burning? (1966) with Jean-Paul Belmondo, Leslie Caron, George Chakiris, Alain Delon, and Jean-Louis Trintignant, among others.
Below, Kirk Douglas puts his handprints in cement in front of Grauman's Chinese Theatre in 1962, with Donald O'Connor standing over his right shoulder looking on.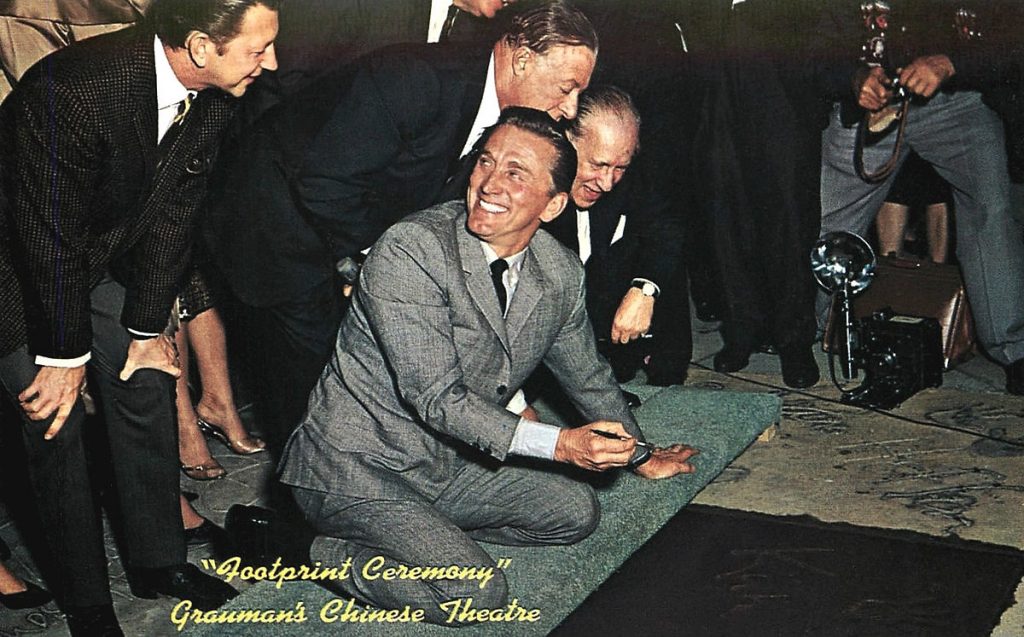 (Kirk Douglas 1962 Photo: Mitock and Sons | Wikimedia Commons / Public Domain)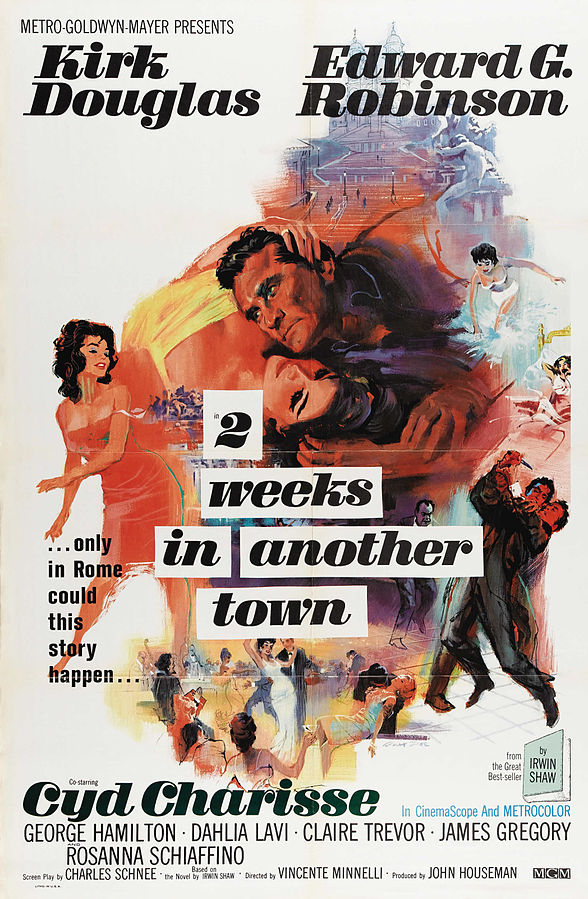 Director Vincente Minnelli, producer John Houseman, and actor Kirk Douglas worked together for a third time (The Bad and the Beautiful; Lust For Life) on the Italian drama Two Weeks in Another Town (1962).
Joining Douglas in the cast of Two Weeks in Another Town were Cyd Charisse, George Hamilton, and Leslie Uggams.
Right, the 1962 movie publicity poster for Two Weeks in Another Town. (Photo: Employees of MGM | Wikimedia Commons / Public Domain)
In The List of Adrian Messenger (1963), Kirk Douglas played 4 different characters. His supporting cast members in The List of Adrian Messenger included Frank Sinatra, and in cameos, friend Tony Curtis (in his third movie with Kirk Douglas after The Vikings and Spartacus), Burt Lancaster (his fourth movie with Douglas), and Robert Mitchum.
Director John Huston also had a cameo in The List of Adrian Messenger. Below, Kirk Douglas and Luther Adler in Cast a Giant Shadow, 1966.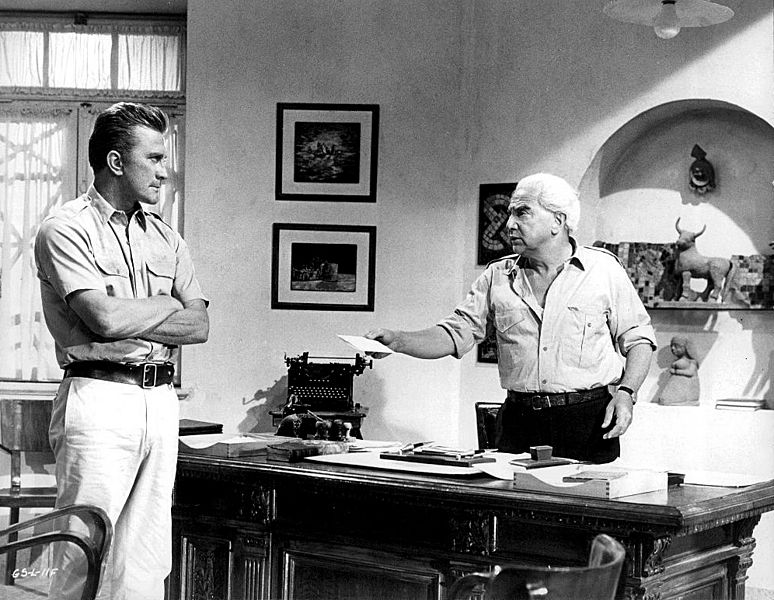 (Photo: Wikimedia Commons / Public Domain)
Frank Sinatra and Kirk Douglas would co-star again in the movie Cast a Giant Shadow (1966) with John Wayne, Austrian actress Senta Berger, and Angie Dickinson. Douglas' company Bryna Productions produced both Cast a Giant Shadow (actually, co-produced, with Wayne's company Batjac Productions) and The List of Adrian Messenger. Below, Kirk Douglas and Yul Bryner relax on the set of Cast a Giant Shadow in 1965. 
 (Photo: David Eldan National Photo Collection of Israel | Wikimedia Commons / Public Domain)
Actor Robert Walker Jr. appeared in the Korean War movie The Hook (1963) with Kirk Douglas, as did character actor Nehemiah Persoff. The Hook stars Robert Walker Jr. and Douglas worked together again on the western movie The War Wagon (1967). The War Wagon was also the third and last movie to co-star both John Wayne and Kirk Douglas. Rounding out the cast of The War Wagon were Howard Keel, Bruce Dern, and Hal Needham. Two years earlier, Hal Needham and John Wayne had both appeared in the World War II film In Harm's Way (1965), along with Paula Prentiss, Burgess Meredith, Patrick O'Neal, James Mitchum, Henry Fonda, and Hugh O'Brian in an uncredited role. Both Carroll O'Connor & George Kennedy had co-starred in 1962's Lonely Are the Brave with Kirk Douglas, and they did so again in In Harm's Way. 
Seven Days in May (1964) was the fifth movie co-starring Burt Lancaster and Kirk Douglas. Their fellow cast members in Seven Days in May included Edmond O'Brien, Martin Balsam, and Richard Anderson. Seven Days in May was Richard Anderson's third and last movie with Kirk Douglas, after 1953's The Story of Three Loves and 1957's Paths of Glory.
Other movies of note for Kirk Douglas during the latter half of the 1960's as he headed into his 50+ years, were:
The Heroes of Telemark (1965) with Richard Harris and Michael Redgrave. Michael Redgrave and Kirk Douglas later co-starred in the musical sci-fi/horror TV movie, Dr. Jekyll and Mr. Hyde (1973) with Susan George.
A Lovely Way to Die (1968) with Eli Wallach, Sharon Farrell, and Ali MacGraw.
The Arrangement (1969), a romantic drama that saw Kirk Douglas starring as suicidal advertising exec Eddie Anderson, Deborah Kerr as his wife, and Faye Dunaway playing his mistress. Hume Cronyn, a young Steve Bond (General Hospital) in an uncredited role as young Eddie, and Ann Doran as an uncredited nurse in her third movie starring Kirk Douglas, were also in the cast of The Arrangement. 
The prison break movie There Was a Crooked Man... (1970) starred Kirk Douglas as bank robber Baris Pitman Jr., and Henry Fonda as the idealistic new prison warden. There Was a Crooked Man...  reunited Kirk Douglas with several former co-stars, including Lee Grant (1951's Detective Story): 
Henry Fonda and Burgess Meredith from In Harm's Way (1965). Right, Kirk Douglas and Henry Fonda in There Was a Crooked Man... 
Hume Cronyn and Ann Doran, from The Arrangement (1959). This was actually Ann Doran's fourth movie with Kirk Douglas, having also appeared in his first movie The Strange Love of Martha Ivers (1947), and The Walls of Jericho (1948). 
Alan Hale Jr. (The Big Trees, 1952; The Indian Fighter, 1955).
Kirk Douglas kept it in the family with A Gunfight (1971), in which he starred as saloon owner and retired gunslinger Will Tenneray. Actress Jane Alexander played his wife Nora Tenneray, and his youngest son Eric Douglas made his film debut in A Gunfight as Bud Tenneray. Country singer and actor Johnny Cash was the mysterious gunfighter Abe Cross. Karen Black and Keith Carradine, billed as "The Young Gunfighter" and appearing in one of his first movies, were also in A Gunfight. The Jicarilla Apaache Tribe financed A Gunfight, and Douglas' company Bryna Productions produced it.
Turning his hand to directing for the first time, Kirk Douglas also co-wrote and starred in the pirate film Scalawag (1973) as Peg, with Mark Lester, Don Stroud, Lesley-Anne Down, and Danny DeVito. A couple of years later, he repeated these dual roles in the western Posse (1975) with Bruce Dern, Bo Hopkins, and James Stacy. Bryna Productions was also involved with the production of Scalawag, and Kirk Douglas had the part of newspaperman Harold Hellman in Posse specially written for James Stacy. Thanks to a drunk driver, James Stacy had lost his left arm and leg in a horrific 1973 motorcycle accident that also resulted in the death of his girlfriend; Posse was his acting comeback. 
Kirk Douglas improbably appeared in the TV musical movie The Special London Bridge Special (1972) as "The Indian Fighter", starring Tom Jones, Jennifer O'Neill, and The Carpenters (Karen and Richard Carpenter) as themselves. Also appearing in The Special London Bridge Special were Lorne Greene (Bonanza), Charlton Heston, Engelbert Humperdinck, and Elliott Gould.
Between 1970-1980, 50+ Kirk Douglas appeared in 19 movies, but by the mid-1970's, his star was beginning to fade and he wasn't always first-billed in the movie credits; an exception was the drama Once is Not Enough (1975) with David Janssen, George Hamilton, and Brenda Vaccaro. In his sixth movie with Burt Lancaster, Victory at Entebbe (1976) their co-stars included Linda Blair, Richard Dreyfus, Helen Hayes (The Snoop Sisters), Elizabeth Taylor, Anthony Hopkins, and Jessica Walter.
Below, Anne and Kirk Douglas at the White House with President Jimmy Carter in 1978.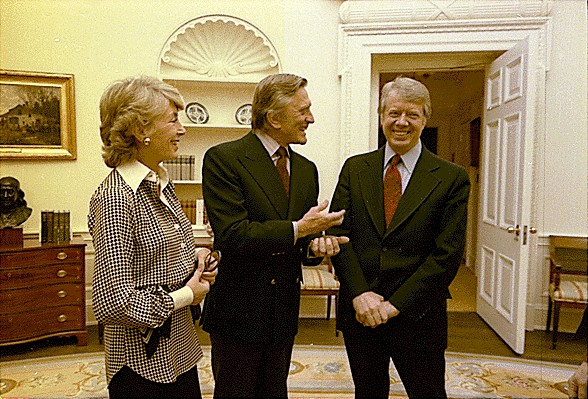 (1978 Photo: White House Staff Photographers | Wikimedia Commons / Public Domain)
That same year, Victory at Entebbe co-stars Kirk Douglas and Helen Hayes, along with Lorne Greene and Patrick O'Neal, were reunited in the TV mini-series Arthur Hailey's The Moneychangers (1976). Also in the cast of The Moneychangers were Christopher Plummer, Timothy Bottoms, Susan Flannery, Joan Collins, and Hayden Rorke. 
As the 1980's came to a close, Kirk Douglas appeared in 3 sci-fi movie thrillers. 
The Fury (1978), with Carrie Snodgress, Charles Durning, Amy Irving, Andrew Stevens, Melody Thomas Scott, Dennis Franz, Gordon Jump (WKRP in Cincinnati), Daryl Hannah, and Jim Belushi as an uncredited beach bum.
The Final Countdown (1980), co-starring with Martin Sheen, Katharine Ross, James Farentino, and Charles Durning again. The Final Countdown was produced by his son Peter Douglas and Bryna Productions.
Saturn 3 (1980) co-starred Kirk Douglas, Farrah Fawcett (Charlie's Angels), and Harvey Keitel. Saturn 3 was a commercial flop.  
In 1981, Kirk Douglas became a senior citizen and received the Presidential Medal of Freedom for his goodwill efforts. In addition to donating to various philanthropic causes, Kirk Douglas had flown to Egypt in 1980 to talk to President Anwar Sadat, and in later years, testified about elder abuse in Congress. Kirk and his wife have continued to give generously, donating approximately $40 million since the early 1990's to the Harry's Haven Alzheimer's Disease treatment centre for patients from the motion picture and television industry. 
Previously: Kirk Douglas is 100, Part 1 of 3: Kirk Douglas, His Lust for Life (1916-1958) 
Next: Kirk Douglas is 100, Part 3 of 3: Kirk Douglas Movies, Memoirs Before I Forget (1986-2017)