Celebrating Steve Perry
Enjoy 3 classic music videos from the "real" Journey front man, Steve Perry - who turns 66 January 22, 2015 (Happy Birthday, Steve Perry).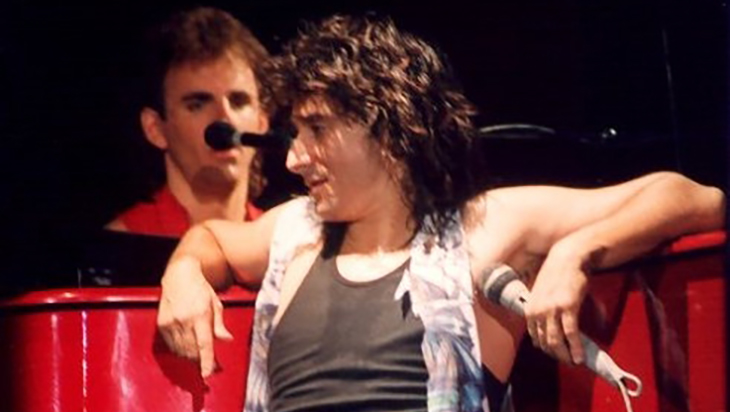 (Steve Perry 1986 Photo: Alex Mane | Wikimedia Commons / CC 3.0)
Steve Perry was born on January 22, 1949 in Hanford, California, and has said he was inspired to become a singer when he heard Cupid sung by Sam Cooke.
A couple of early bands in the 1970's - Ice, Pieces, Alien Project - went by the wayside before Steve Perry got the call from Journey manager Herbie Herbert in the latter half of the 1970's.
Below, vintage Steve/Journey, singing Oh Sherrie in 1984:
Steve Perry made his live debut with Journey in 1977 and provided lead vocals to 7 of Journey's biggest-selling albums between 1978 & 1996. The band split up in 1986 and then reunited in 1996 to record a new (smash hit) album, Trial by Fire.
(Steve Perry c. 1980s Photo: Cridgway)
Before they could go on tour, Steve Perry injured his hip and was diagnosed with degenerative bone disease (from osteoarthritis), requiring hip replacement surgery (at the age of 47). He was reluctant to have the surgery, and after 17 months of waiting on him, the other band members gave him an ultimatum to have the surgery or they would go on with a new lead singer.
Steve Perry left Journey in 1998  and was replaced first by Steve Augieri; then when Augieri began having vocal problems in 2006, by a Journey cover singer, Filipino Arnel Pineda. Meanwhile, Perry finally underwent the hip replacement surgery in 1998; lost his girlfriend Kelly Nash to cancer in 2012, and had 2 (successful) skin cancer surgeries in 2013.  
After a 20 year hiatus of live performances, in 2014 Steve Perry performed with L.A. band the Eels on 3 separate occasions in 2014 (by then, he was an official "senior citizen" at age 65), singing Open Arms and Lovin, Touchin', Squeezin' 
Although in a 2010 interview Steve Perry stated he had written many new songs and and might soon record a solo album, nothing has been forthcoming so far. In another 2011 interview with Billboard, he strongly hinted at why a future tour would be a long shot: 
"I'm no spring chicken...The same arthritis that ate up my left hip that finally got replaced hasn't stopped there... And touring is a lot of work. I'm impressed when I see people like Eric Clapton out there. Gee whiz, Eric, give me a break! I know it's gotta hurt somewhere."
Here's a closing vintage Steve Perry tune - Foolish Heart. 
*Images are public domain or Creative Commons licensed & sourced via Wikimedia Commons or Flickr, unless otherwise noted*