Celebrating Seniors - Linda Ronstadt Turns 69 - Pt 3of5
Linda Ronstadt - The Jerry Brown Years

Enjoy this 5-part series celebrating Linda's 69th birthday today, July 15 . Part Three - vintage music videos from her career 1979-1983:  How Do I Make You, Hurt So Bad, I Can't Let Go, I Knew You When.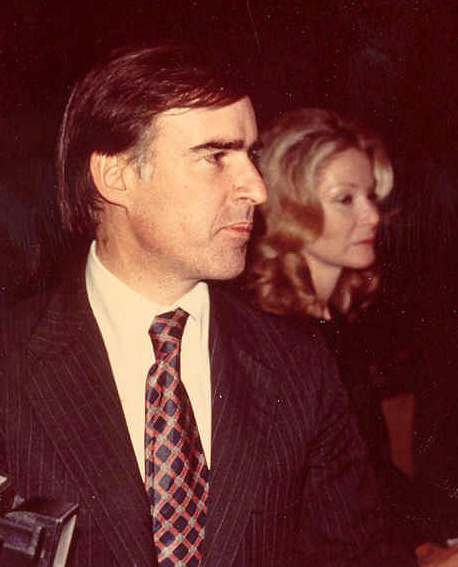 Folk, rock and country music baby boomer darling Linda Ronstadt ended the 70's decade with an international tour with boyfriend Jerry Brown that included Australia and Japan. By now, Jerry Brown had become Governor of California, a Democratic presidential candidate, and was her acknowledged "boyfriend" in interviews; they lived together in the Governor's mansion. Linda and Jerry got a lot of attention from the press, making the cover of Newsweek and US Weekly magazines in 1979; their trip to Africa that year also got them on the cover of People magazine.
California Governor Jerry Brown in 1978. (Photo: Alan Light | Flickr Some rights reserved)
In her 2013 memoir Simple Dreams, now senior citizen Linda Ronstadt said neither she nor Jerry ever imagined sharing each others lives, but have always remained on excellent terms. Jerry Brown is once again the Governor of California, and she's friends with both Jerry and his wife (they occasionally visit over Christmas).
In an April, 1980 interview with Playboy Magazine writer Jean Vallely, Ronstadt said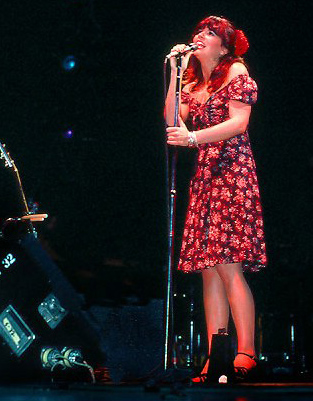 "The Eighties is a season of change, kind of like the Sixties just before rock 'n' roll exploded. A lot of us are kind of walking around wringing our hands and wondering what the music will be like. The most interesting things seem to be coming out of England again. At least my favorite things: Elvis Costello, Joe Jackson, Rockpile..." When asked if it could be that she was getting too old to rock 'n' roll, she answered "Well, every now and then, we clutch our hearts and wonder if we're getting so old we don't understand what is coming down. All of us worry that we are turning into old codgers. But that's silly. There's always the music."
(Linda Ronstadt 1977 Photo: Craig Howell | Flickr Some rights reserved)
This interview foretold the coming change - Linda Ronstadt soon shifted away from her folk-rock roots and began changing up the genres in her music catalog. Her 1980 album Mad Love was her last contemporary pop album of the 1980's. It included 3 1980 Billboard US chart hit singles - How Do I Make You, Hurt So Bad, and I Can't Let Go.
Below, Linda Ronstadt's hit singles from the Mad Love album, performed by Linda Rondstadt live in 1980:
How Do I Make You, written by Billy Steinberg made it to #10:
Hurt So Bad, written by Teddy Randazzo, Bobby Weinstein, and Bobby Hart, got to #8. Below, the official Linda Ronstadt music video for Hurt So Bad.
I Can't Let Go, written by Al Gorgoni and Chip Taylor, peaked at #31. Below, Linda Ronstadt sings her hit single I Can't Let Go live.
In the summer of 1980 Linda Ronstadt began rehearsals to star in a stage musical operetta, Pirates of Penzance, which ended up on Broadway and ran until 1982. She starred alongside Rex Smith and Kevin Kline in Pirates of Penzance, and was nominated for a Tony Award for her performance in the play. This was followed by her appearance in the 1983 Pirates of Penzance movie musical.
Linda Ronstadt's remaining 198o's album sales were not quite as high-selling as her top albums in the 70's, but she did manage to achieve another 6 platinum albums from 1983-1990. She began working the the Nelson Riddle Orchestra to record classic pop/big band tunes with the albums Get Closer (hitting the 1982/83 charts) and What's New (1983/84 charts). This big band music was not as popular with her baby boomer fans, but did hit a chord with more mature audiences, seniors, and retro/vintage music lovers. Get Closer, written by Jon Carroll, was a Billboard #29 hit single.
I Knew You When, written by Joe South, made it to #37 on the Billboard US charts for Linda Ronstadt. Below, the official music video for Linda Ronstadt's I Knew You When.
Easy For You to Say, written by Jimmy Webb, was a #7 hit single for Linda Ronstadt on the Billboard US Adult Contemporary charts. What's New, written by Johnny Burke and Bob Haggart, made it to #5; and I've Got a Crush on You, written by Ira Gershwin was a #7 - US Adult Contemporary chart hit for Linda Ronstadt.
Next:
Linda Ronstadt Part Four – Diversification in the 80's
Linda Ronstadt Part Five – Motherhood & Parkinson's
Previously:
Linda Ronstadt Part One - Country and Rock Beginnings 1965-1974
Linda Ronstadt Part Two - Pop, Rock and Country Queen 1975-1978