Celebrating Seniors - Julie Andrews is 80 pt 2of2
 Julie Andrews Part Two: Star of Movies and More

More film comedies and musicals followed for Julie Andrews after the break-out success of Mary Poppins, including a co-starring role in The Americanization of Emily with James Garner.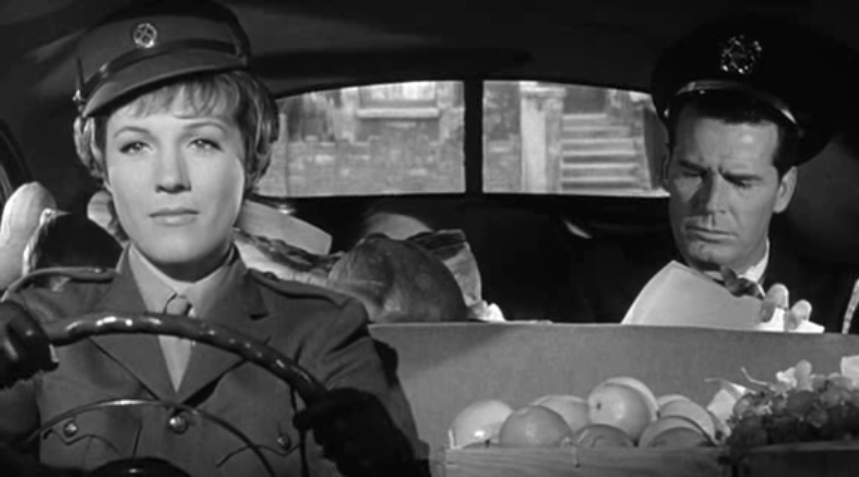 (The Americanization of Emily 1964 Photo: Classic_Movie_Gals | Flickr Some rights reserved)
However, her 1965 movie The Sound of Music remains, as of 2013, the 3rd highest grossing film of all time in the US. Julie Andrews co-starred with Canadian actor Christopher Plummer in The Sound of Music and they made movie magic. Andrews won another Best Actress Golden Globe and was nominated a 2nd time for an Academy Award Best Actress. 
Below, the movie trailer for The Sound of Music features Julie Andrews as Maria, Christopher Plummer as Captain Von Trapp, Eleanor Parker as The Baroness, Nicholas Hammond as Friedrich, Duane Chase as Kurt, Angela Cartwright as Brigitta, Debbie Turner as Marta, Kym Karath as Gretl, and Heather Menzies-Urich as Louisa. 
The Sound of Music was followed up with television guest-starring appearances and specials, before she appeared in another blockbuster, Hawaii (1966). More starring roles followed including a dramatic role in Torn Curtain (1966) opposite Paul Newman and another comedy, Thoroughly Modern Millie (1967). 
Below, Julie Andrews with daughter Emma in 1965, at one of friend Roddy McDowall's house parties.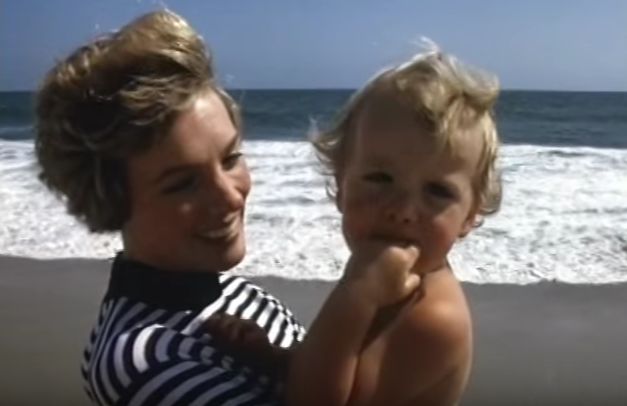 (Screenshot by permission of Luke Sacher and Carol Langer)
Professional success was not being mirrored in her personal life; Julie Andrews and Tony Walton divorced in 1967, although they did remain friends and Tony did illustrations for The Great American Mousical (2006) one of the children's books she co-wrote with their daughter Emma.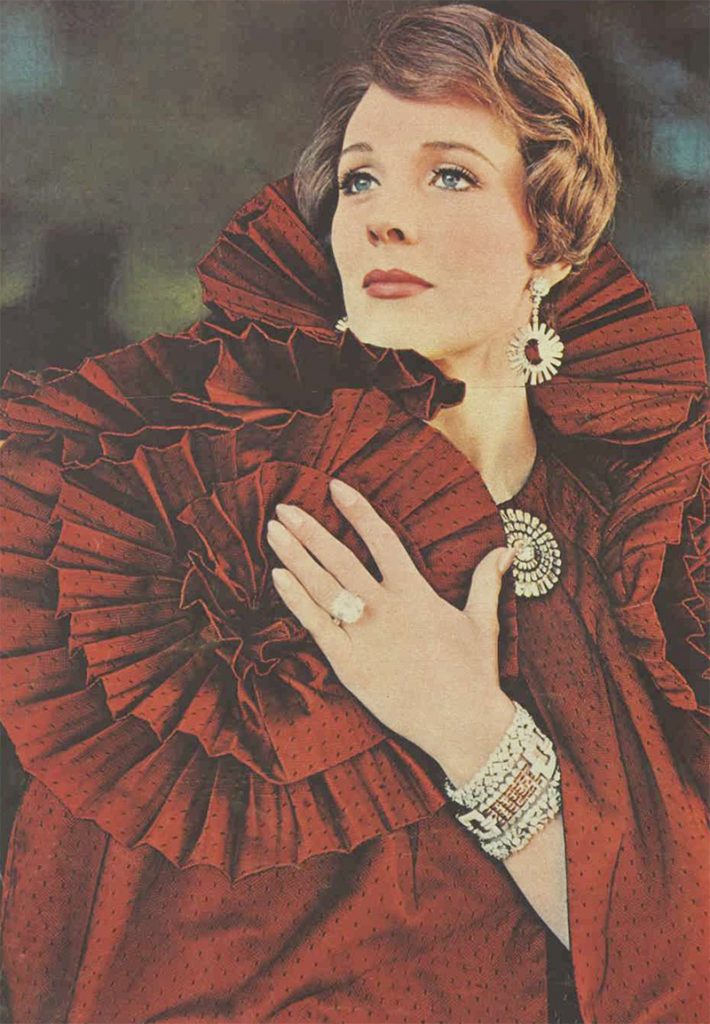 Julie Andrews as Gertrude Lawrence in Star! (1968). (Photo: Australian Women's Weekly Cover | Bess Georgette / Flickr Some rights reserved)
While driving one day, Andrews met director Blake Edwards coming the other direction. She told Good Morning Britain presenter Kate Garraway in 2015 that
"He rolled down the window after smiling a couple of times and he said, "Are you going where I just came from?"' 'I was going to a therapist he was coming from."
Julie Andrews and Blake Edwards married in 1969; their family included Andrew's daughter Emma, Edwards two children Jennifer and Geoffrey from a previous marriage, and 2 Vietnamese baby girls (Amy and Joanna) they adopted in the 1970's.
Blake Edwards encouraged Julie Andrews to take creative risks and they worked together on 7 movies directed by Blake and starring Julie. Darling Lili (1970) co-starring Rock Hudson was one such movie that flopped, while 10 starring Bo Derek (1979) was a hit.
During the seventies, Julie Andrews appeared much more frequently on television – in specials and in The Julie Andrews Hour (1972-1973) her own Emmy Award-winning TV variety series – than in movies.
In the eighties, although Julie Andrews continued to appear in television variety specials (quite often with friend Carol Burnett), her movie career picked up.
S.O.B. (1981) directed by Blake Edwards was another flop; while Victor/Victoria (1982) co-starring James Garner (again) was a hit. Victor/Victoria and earned Julie Andrews a 3rd Academy Award nomination for Best Actress, and won her a Golden Globe Award. Below, Julie Andrews, James Garner, Robert Preston, Alex Karras, Lesley Ann Warren, are featured in the movie trailer for Victor/Victoria. 
As she turned the corner into her 50+ years, Andrews worked steadily in the movies and on television, through the remaineder of the 1980's and early 1990's.
Julie Andrews returned to her stage roots with a vengeance in 1993 and until she was sidelined in 1997, enjoyed a Broadway run of shows including the stage musical of Victor/Victoria – and a subsequent world tour for the production. She also recorded two albums of songs celebrating Broadway legends Richard Rodgers, and Alan Jay Lerner.
A 1997 operation at Mount Sinai Hospital to remove nodules from her throat when she was in her sixties, had a disastrous effect on Julie Andrews' singing voice – reducing it from 4 octave soprano to an alto. Andrews subsequently filed a malpractice suit against the doctors that was settled in 2000, and had 4 more operations that improved her speaking voice but could not restore her singing.
New senior citizen Julie Andrews was awarded a Dame Commander of the Order of the British Empire (DBE) in 2000 by Queen Elizabeth II. She and Christopher Plummer (her co-star from The Sound of Music) reunited for a live TV performance of On Golden Pond (2001), about an older couple of seniors and their grown daughter.
Next she co-starred as the older Queen Clarisse Renaldi in Disney's The Princess Diaries (2001) and it's sequel in 2004, in which she sang her first song on film since her 1997 throat surgery. Below, Anne Hathaway, Julie Andrews, and Hector Elizondo are featured in the movie trailer for The Princess Diaries.
Julie Andrews' long association with Disney continued when she was cast as the nanny in two children's television movies based on the Eloise books by Kay Thompson, and she served as a Disney Ambassador from 2005-2006.
In 2003 Julie Andrews directed her first stage musical, returning to her history again to direct The Boy Friend; ex-husband Tony Walton did scenic and costume design for a 2005 repeat run and subsequent national tour in 2006.
Andrew's movie career turned to speaking roles in animated movies for Disney and other films, beginning in 2004 with Shrek 2 (2004), voicing Queen Lillian in that movie and it's 2 sequels.
Septuagenarian senior citizen Julie Andrews was given a Lifetime Achievement Award by the Screen Actors Guild in 2007 and published "part one" of her autobiography the next year, Home: A Memoir of My Early Years (2008).
2010 was a year of ups and downs for 75-year-old Andrews. It began well with several professional highlights, including the re-emergence of her singing performances (although still limited vocally), with a concert in London. Her 23rd children's book (co-written with her daughter Emma Walton) The Very Fairy Princess was published and went to #1 on the New York Times Best Seller List for Children's Books. Her 3rd Shrek film, Shrek Forever After, was released, and a new movie Despicable Me in which she voiced actor Steve Carell's mother Marlena, proved to be a hit. Sadly, the year ended on the lowest of lows; her husband of 41 years, Blake Edwards, died in December 2010.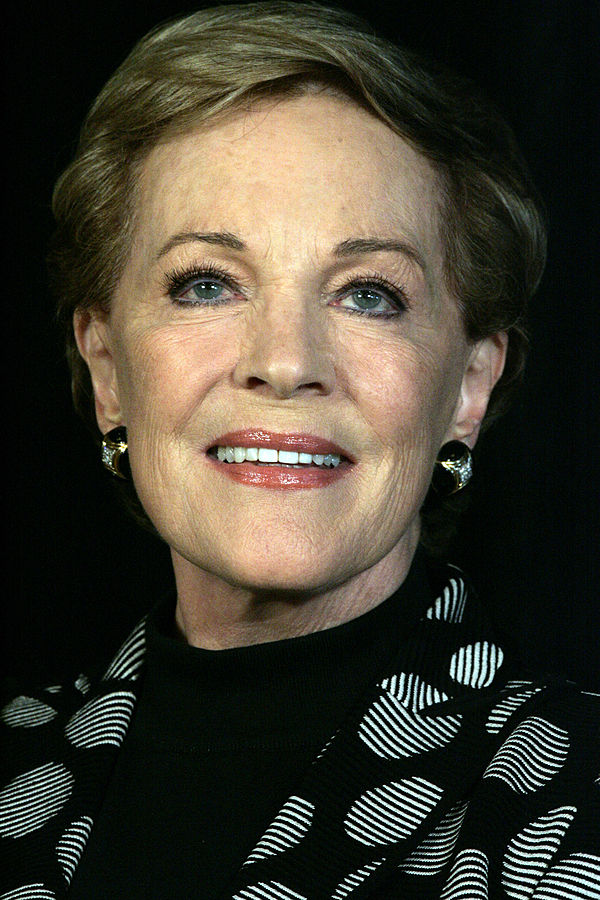 In her late 70's, Andrews has shown no signs of slowing down. She and her daughter Emma were recognized with a 2011 Grammy Award for Best Spoken Word Album for Children for A Collection of Poems, Songs and Lullabies, and Andrews was given a Grammy Lifetime Achievement Award. She toured Australia and New Zealand in 2013 and England in 2014, with a former The Sound of Music co-star, former child actor Nicholas Hammond (Friedrich von Trapp).
(Julie Andrews 2013 Photo: Eva Rinaldi | Wikimedia CC 2.0)
Now an 80-year-old octogenarian senior citizen, Julie Andrews is a grandmother and great-grandmother. At the 2015 March Academy Awards ceremony, Lady Gaga sang a Sound of Music medley in homage to Andrews. Julie Andrews has no plans to retire; she is scheduled to direct My Fair Lady for Opera Australia in 2016.

Happy 80th Birthday, Julie Andrews!
Previously: Julie Andrews Part One: Star of Stage & Mary Poppins