Celebrating Seniors - Clint Eastwood Turns 85 - Children and Divorce - 3 of 5
Senior City celebrates the 85th birthday of Clint Eastwood on May 31st 2015, in the third of a five-part series this week.
In 1968 Maggie and Clint Eastwood had their first child together, son Kyle Eastwood, followed by daughter Alison Eastwood in 1972. Always a music lover, particularly jazz, Clint and Maggie were frequent attendees at the Monterey Jazz Festival. 
Clint Eastwood starred in the western cop movie Coogan's Bluff (1968), co-starring with Lee J. Cobb, Susan Clark, and Don Stroud, with character actors Seymour Cassel, Conrad Bain, and David Doyle. Below, the movie trailer for Coogan's Bluff features Clint Eastwood, Susan Clark, Don Stroud, Tisha Sterling, and Lee J. Cobb.
Clint's father died unexpectedly in 1970 of a heart attack at the relatively young age of 64; Eastwood, who had always been health and fitness-conscious became even more so. His roving eye hadn't changed, and eventually he and Maggie separated again.
Clint Eastwood kept up a busy filming schedule as an actor in the early 1970s. Some of the movies most popular with his baby boomer and senior fans from this era:
Two Mules for Sister Sara (1970) Shirley MacLaine
Kelly's Heroes (1970), a World War II action-comedy with Telly Savalas, Don Rickles, Carroll O'Connor, Donald Sutherland, Gavin MacLeod, Stuart Margolin, Harry Dean Stanton. Look closely and you'll spot cameos by John Landis and Yves Montand in Kelly's Heroes.
The Beguiled (1971), a dark Civil War drama. Geraldine Page is a boarding school headmistress, and a young Melody Thomas Scott a student, in The Beguiled. 
Play Misty for Me (1971) had Clint Eastwood starring as a radio D.J. being stalked by fan/listener Evelyn (Jessica Walker). Donna Mills plays his girlfriend Tobie /Williams. Play Misty for Me was Clint Eastwood's first directorial effort for his Malpaso Productions company, and Eastwood chose to feature jazz music in the film. With Play Misty for Me, Clint Eastwood laid the foundation for the professional interests - directing and music - that would continue to inspire and engage him in the movies he made throughout the remainder of his career, including his 50+ and senior citizen years.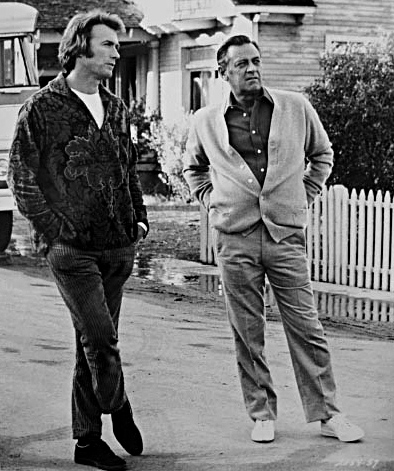 Other Clint Eastwood films of note from the early 1970s, which he also directed:
High Plains Drifter (1973), a western inspired by Clint's previous "spaghetti" westerns fro Sergio Leone. High Plains Drifter was Eastwood's second time behind the movie cameras as a director.
Clint had only a cameo role in the Malpaso Productions movie Breezy (1973) which stars William Holden and Kay Lenz. He was able to focus on directing the movie.
Right, Clint Eastwood and William Holden on the set of Breezy. (Photo: Malpaso Productions | Wikimedia Commons / Public Domain)
Perhaps Clint Eastwood's most iconic character as an actor was that of Inspector Harry Callahan of the San Francisco Police Department. The first film in the franchise was Dirty Harry (1971), which co-stars Harry Guardino, John Vernon as the mayor, John Larch as the Chief, Andrew Robinson as psycopathic killer "Scorpio", Reni Santoni as his inexperienced new partner Chico Gonzalez. Eastwood's delivery of his lines as the hard-bitten detective will go down in movie history, and gave birth to the catchphrase "Do you feel lucky?". Below, the movie trailer for Dirty Harry. 
The commercial success of Dirty Harry inspired no less than 4 sequels featuring Inspector Harry Callahan / Clint Eastwood, each of which did well at the box office:
Magnum Force (1973), co-starring Hal Holbrook, David Soul, Tim Matheson, and Robert Urich.
The Enforcer (1976), with Tyne Daly, a returning Harry Guardino, and introducing Bradford Dillman as Captain Briggs. 
Sudden Impact (1983) - which Clint Eastwood also directed -co-starring Sondra Locke, Pat Hingle, and Bradford Dillman again.
The Dead Pool (1988), with Patricia Clarkson and Liam Neeson. Canadian comedian Jim Carrey is a scene-stealing rock star in The Dead Pool, his 5th movie outing and first serious role.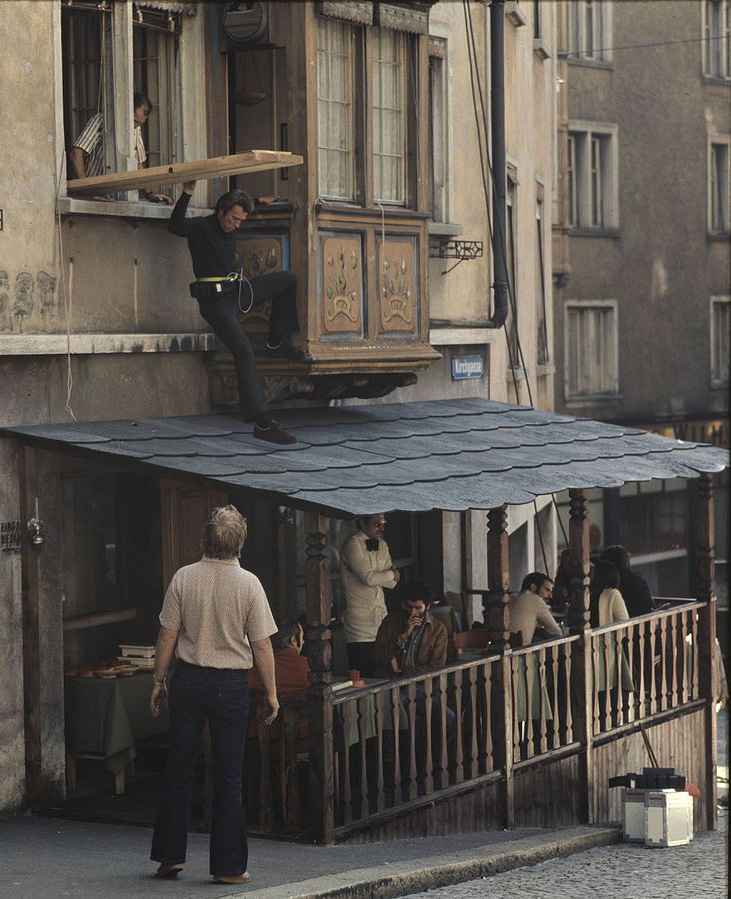 In 1974, Clint Eastwood travelled to Zurich, Switzerland to film the spy thriller The Eiger Sanction (1975). His co-stars in The Eiger Sanction included George Kennedy, Vonetta McGee, and Jack Cassidy.
Right, Clint Eastwood on set during the filming of a street scene in The Eiger Sanction. (Clint Eastwood 1974 Photo: Beat Albrecht| Wikimedia CC 4.0)
Around this time Clint Eastwood met married actress Sondra Locke, and by fall 1975 Clint and Sondra had begun an affair during the filming of his western movie The Outlaw Josey Wales (1976). The Outlaw Josey Wales co-starred Sondra Locke, and Eastwood's son Kyle had an uncredited role as his character's (Josey Wales) son in the film.
Clint and Sondra Locke began living together in a Bel-Air home he purchased in 1977. Although Maggie and Clint were legally and amicably separated in early 1979, their divorce wasn't finalized until 1984. 
Locke and Eastwood's relationship would end up lasting through 14 years and 6 movies together, throughout which she and Clint remained on friendly terms with her husband Gordon Anderson, who was openly gay. Locke had 2 abortions and a subsequent tubal ligation to prevent pregnancy while they were together.
Below, Clint Eastwood and Sondra Locke are featured in the movie trailer for The Gauntlet (1977).
As Eastwood had turned the corner into his 50+ years in the 1980's, he was not only producing and starring in his movies, he was now directing quite a few of them as well. His fans included baby boomers, zoomers and seniors who had enjoyed his films since the 1950's. It wasn't until he became a senior citizen that he began to unleash his musical talent in his movies...the soundtrack for the 1986 movie Heartbreak Ridge (which he also produced, directed and starred in) includes the song How Much I Care, co-written by Clint Eastwood and Sammy Cahn. His daughter Kimber had her son Clinton in 1984, making Clint a grandfather for the first time.
Happy 85th Birthday, Clint Eastwood!
Next in the Celebrating Seniors - Clint Eastwood Turns 85 series:
Previously in the Celebrating Seniors - Clint Eastwood Turns 85 series: